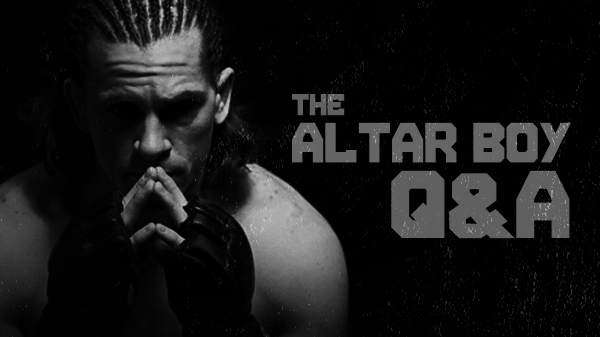 The Altar Boy - Q & A
Summer was just set for take off in 2013 and Zach Freeman was nothing but grins.

Six months back and through fan voting, Freeman was named Pro Fighter of the Year in the STL MMA Awards and in the same month defeated Rob Washington in an arena full of friends and family at the St. Charles Family Arena in a harrowing three-round unanimous decision that pushed his professional MMA record to 7-0.

In June of 2013 the St. Charles MMA lightweight travelled across the state to fight Jake Lindsey in the co-main event of Titan Fighting Championships 25. Lindsey finished Freeman halfway through the first round.

With that win and another, Lindsey got the call to the UFC. Following the loss, Freeman got a nagging groin pull and a shot glass filled with reality.

Healthy, focused, and determined, Freeman makes his return this Saturday when he headlines the stacked card of MMASF: Freeman vs. Budnik this Saturday at the St. Louis Center. Budnik, a BJJ black belt is no easing back into the waters. He is in the middle of a 6-fight win streak and a former WEC staple. Freeman and Budnik set atop an 8-pro, five amateur fight card held at Afftonís St. Louis Center. Tickets are $25 and can be purchased HERE until Wednesday or at the venue on fight night.

Sit back as ďThe Altar BoyĒ talks about his time away from the cage, Budnik and Lindsey and what it was like being one of the new guys at St. Charles MMA.

Knuckle Junkies: So, a 14 month layoff?

Zach Freeman: Ridiculous. Definitely the longest layoff I've ever had. It was just life. When you get at a certain age you have to think about everything. Not just about your dreams but your realities. Iíve been taking my job serious, buying a house, being engaged, none of those things really interfere with me fighting but the groin injury definitely took a toll and it took a long time to heal. Thatís really what kept me on the shelf.

KJ: You have Mike Budnik (13-4) waiting for you on Saturday, was there a long process in finding the right opponent after a long layoff?

ZF: I just wanted a tough fight and I wanted something that was going to move me up. I see lots of guys fighting guys they shouldnít. You only have so much time to make an impact in this sport. Heís on a six-fight win streak and that attracted me, heís got Ultimate Fighter experience and that attracted me. But Iím at the point, at 7-1, everything is going to be a tough fight.

KJ: What did you learn from the Lindsey fight?

ZF: Man, the Lindsey fight. It was tough. I had never been finished like that before. It took awhile to recollect what had happened and I clearly remember it now. I remember being fine up against the cage. He landed, I landed. He was really dirty in the clinch. Like, the dudeís a dirty clinch fighter. He is tough in the clinch. People donít realize, those little poundings to the stomach, those things add up. Itís maybe more annoyance than pain but they still affect you. We seperated and I tried to throw a big overhand right and when I did - and itís hard to see in the video - he hit me right on the chin with an uppercut and put me on Queer Street. He had me in trouble and then he took the next minute to finish me. I watched him fight in the UFC and he lost, which isnít necessarily good for my stock but I was cheering him on and he took a really tough debut in John Tuck. I see Jake winning his next one and makin a splash in the UFC. Heís a tough guy and I donít feel bad losing to him at all.

KJ: A lot of people say you are on point and have been looking good in camp.

ZF: Iíve been working with (Adam) Meredith a lot and Jake Roberts. Jimmy Donahue and Vince Eazelle, who just beat Chase Bebe. Pretty much anybody. Iíve done a little sparring with Jake Collier, Travis Draper. No matter what, everybody here is tough. It doesnít matter if theyíre pro or amateur. Itís starting to get that point where a guy whoís just turning pro is just as dangerous as a seven-fight pro.

KJ: When did you know you were good in this sport?

ZF: I think Iím still trying to find that. I do think Iím good but I do think there are questions about myself that I have to find like, do I belong at the top? I think there is a big difference from being a top prospect and being a UFC fighter. I feel like not until Iím fighting and winning in the UFC will Iíll be like ... self-fulfilled may be the right word. No matter what, Iíll always be a known St. Louis fighter but if that is all that comes out of it, so be it. Iíll still be happy with that.

KJ: You came to St. Charles MMA from Dustin Seversí Domain MMA, what were your first days at SCMMA like?

ZF: It was a tough transition at first. It was like two teams joining up and one was an already established team. We were wanting to be an established team. Not everyone knew about Dustin but as soon as they rolled with him they did. The dude is a beast and Iíll never forget what he taught me. Coming in, it was hard and it was kind of like being the new kid at school. You had to fit in and earn the respect of the guys and the only way to do that is to fight hard so I would go hard with Lance (Benoist) and Matt (Ricehouse). It took awhile though. I remember once or twice getting upset and saying something to (Josh) Sampo like, ĎHey, Iím part of this team too.í It took awhile but I think after I represented SCMMA for a couple of fights and started winning and being part of the team they opened their arms up to us and we donít have that weird separation now an I donít feel like an outsider. Iím as much a part of this team as anybodyís ever been.

For more on MMASF: Freeman vs. Budnik, return to Knuckle Junkies (@knucklejunkies) each day this week and follow Freeman on Twitter at @altarboymma.