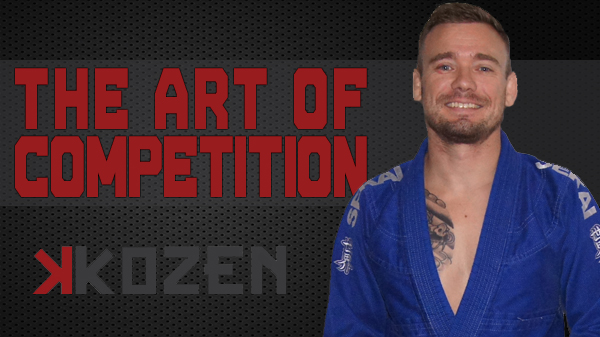 The Art of Competition
In the world of jiu-jitsu, JW Wright is a lifer.

For nearly two decades, the Royler Gracie black belt has devoted his life to the sport; learning, teaching, and perfecting the techniques and then sharing with his students.

For the past ten years he's held jiu-jitsu tournaments. Like a mad professor, he has tweaked his formula to where his branded events have become one of the largest and most respected jiu-jitsu tournaments in the Midwest.

In February he will host his first ever professional jiu-jitsu event featuring local and world-renowned black belts competing in 7 minute matches with no advantages.

"I had been throwing jiu-jitsu tournaments in the state of Missouri for ten years." Wright said. "We've been doing it for a decade, but we saw a deficiency in how the tournaments were ran, promotions of the tournaments, and opportunities for higher belts."

Necessity is the mother of invention and such is the case for Wright.

"I started throwing tournaments just so my students would get matches." Wright said. "By having matches, I knew it created an opportunity to find deficiencies faster. You found out what your weakness was. I honestly believe that is the reason why my school grew so quickly, I was unafraid to find weaknesses, and we filled them in quicker. We became very competitive, and now we're lucky to compete all over the world."

Wright would continue to improve his formula by improving on every aspect of the tournament while expanding its reach.

"Last year we did 12 events in 12 months, all over the Midwest." Wright said. "We just finished one in Tulsa, and another one in Cape Girardeau on December 13th. We go to the Missouri State championships on February 7. It's our biggest event and our only registration-only event because it sells out."

In 2012, Wright would re-brand his events under the Kozen banner. Kozen has now hosted events in Missouri, Oklahoma, and North Carolina.

"One of my students had made a company, Kozen gis." Wright said. "It was a gi manufacturing company. We started selling them at the schools, a really good gi. We started selling the gis at the tournament and we realized we had something very, very special and we needed to take it even larger."

The partnership with the Kozen gi company has increased the visibility of both brands and opened the door for sponsorship opportunities for local athletes.

"Kozen has been able to sponsor three world champions now," Wright said. "We've taken local talent and have them stand on the podium of jiu-jitsu tournaments around the world with our gi on. It's been a unique experience, and honestly, it's just the beginning. In 2015 and 2016 I think people are going to be very surprised at what they're going to see."

This coming year, Kozen Fighter plans on expanding their schedule to include Texas, Arkansas, and Tennessee in what will be its busiest year to date.


"We're starting in the Midwest and branching out," Wright said. "We don't want to grow too fast. We try to make make every tournament a good positive experience and a family environment. That's something that jiu-jitsu can do, but you just have to work very hard to maintain it."

One of the reasons Wright and Kozen have been successful is a fierce determination and loyalty to their vision.

"I don't pay attention to what people are trying to do in the market." Wright said. "The experience is so different at our event than at other tournaments. It's such a family atmosphere that I want people enjoying the sport for what it is. It's not MMA, not judo, not wrestling. Jiu-jitsu is a completely different animal that people can enjoy, and honestly the whole family can enjoy. The more people see people fight in a gi they'll respect it even more. Because it's so detailed. Such a thinking man's game, so difficult to do some of these moves."

While there is plenty of competition in the world of jiu-jitsu tournaments, Wright looks to provide a different experience than other events.

"Instead of taking the people's money and giving the kids a sword like other tournaments," Wright said. "I'm just trying to educate the parents, educate the coaches, educate the kids If you educate people in jiu-jitsu, then they're going to love it. We don't try to be as big as them, we try to be better."

In addition to partnering up with Kozen Gi company, Wright has recently joined forces with a local promotion company to launch a series of professional jiu-jitsu events.

"Patrick Smith, the promoter of Cage Championships, approached me asking to do a super fight." Wright said. "Unfortunately he had a real difficult time finding another black belt that would be a good match-up for me. A few months went by, and I said, lets take this to another level."

The seeds of that conversation bloomed into a full evening of professional jiu-jitsu. Respect 1 is scheduled for February 28th and will feature 14 matches The upscale event will be hosted at the Kemp Auto Museum in Chesterfield.

"I said to Patrick, let's do this in a unique venue that showcases the fighters," Wright said. "On a flat mat that doesn't have a cage around it, and lets get every one of the gym owners a match."

Wright has organized black belt matches previously, but nothing to this degree.

"We have done super fights last year at the State Championships." Wright said. "It's good to have white and blue belts see black belts fight. A super fight is cool, but it's in a gymnasium, and most of the people there are on the edge of the seat wanting themselves or a loved one to compete. The people who come to Respect can focus on the action. This is a showcase."

The idea of an event of jiu-jitsu matches is not a novel idea. Ralek Gracie launched Metamoris in 2012 and and quickly grabbed the attention the entire jiu-jitsu community. He would later add UFC athletes to the card, increasing the visibility of the event.

Metamoris would follow up with a second event in 2013, and three events in 2014.

With several local instructors included on the first Respect fight card, and many popular local MMA fighters, this event has a large appeal to both fight fans and of sport jiu-jitsu.

"People who sit at home and watch the UFC, watch Metamoris, you're going to get that experience." Wright said. "You're going to enjoy it more, because you don't have to worry about your son fighting. You can just focus on the highest level jiu-jitsu on the planet and it's going to be incredible."

For more information on the next Kozen tournament visit Kozen Fighter.

For more information on the Professional Jiu-JItsu event visit the Respect website.