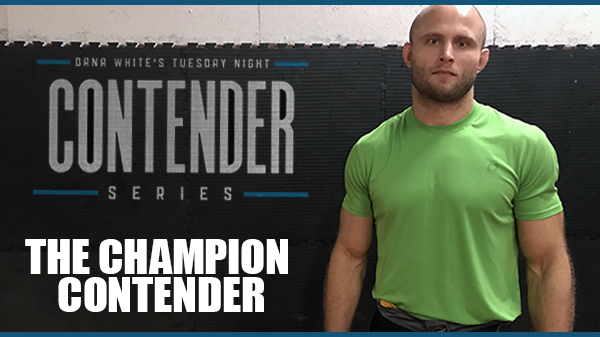 The Champion Contender
Julius Anglickas, the reigning Legacy Fighting Alliance Light Heavyweight world champion, is closing in on another milestone.

"My dad always brings it up. He's like, 'man, we've never had anyone like you in the family before," Anglickas said.

Anglickas will get a chance at a UFC contract tomorrow night on the Dana White Tuesday Night Contender Series at the UFC Apex in Las Vegas. The fight will be broadcast on ESPN-plus. Another St. Louis-based fighter, featherweight Sean Woodson, had success weeks ago on the Contender Series, earning a contract with an impressive second-round KO on a fight he took on five days notice.

The 28-year-old Anglickas was born in Lithuania, moved to the United States in 2005 and went to high school in New York. He relocated to the St. Louis area and his combat sports career started to take off. Soon, word of his mixed martial arts accomplishments is starting to reach overseas.

"They are seeing some noise being made in Lithuania about this guy fighting in the United States," he said. "I'm not crazy-known but there were a few articles written about me. That adds to the drive, to represent Lithuania and make all of those people proud."

On Tuesday, Anglickas will face Karl Reed. Reed is no stranger to the Contender Series, having fought and lost there in 2017. Reed (6-1) is based out of Simpsonville, South Carolina, and trains out of Upstate Karate, the home of UFC welterweight contender Stephen Thompson. Even though he relies heavily on a karate-style approach that is based around a heavy kicking game, Reed was also wrestler in college.

"He tries to be like (Thompson) but he's not that amazing at it," Anglickas said. "But he does have that funkiness and I have to watch out for it. He's not your traditional stand and bang fighter. He really tries to keep that karate style throughout the whole fight."

Anglickas has a brother, who is a year-and-three month older and a half-sister. His mother is a long-time employee of Brooks Brothers and his stepdad deals in the book industry. And his father is a truck driver, they all live in the Long Island area and it is from his family where he gets his relentless work ethic.

While other fighters hashtag a mean game, Anglickas, who owns a master's degree in physical education from Lindenwood, lives it.

He fights out of St. Charles MMA, a gym that has produced four different fighters that have gone on to the UFC and dozens of others who have dominated the regional circuit. After wrestling in high school, Anglickas would wrestle two years at the College at Brockport in upstate New York and then at Missouri Baptist in St. Louis. It was at Mo-Bap that Anglickas met Alp Ozkilic, who was helping with the wrestling team there. Ozkilic was a staple at St. Charles MMA and fought four times in the UFC, becoming the first Turkish-born fighter to compete for the organization. Through Ozkilic, Anglickas was brought to SCMMA and his MMA career was born. He won multiple titles as an amateur and was a two-time Golden Gloves boxer. His lone MMA loss came via submission in the summer of 2016.

This year, the theme of the Contender Series has been style over everything. A win is not enough to get the thumbs up from White. The victory must also come with some fanfare.

"I feel like if I just go after it, it will work itself out," Anglickas said. "The spectacular fashion will take care of itself."