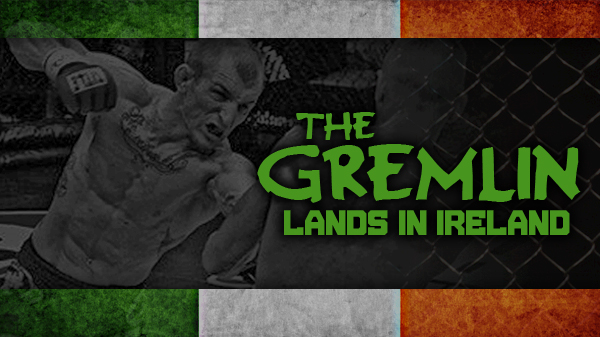 The Gremlin Lands in Ireland
When we last saw Josh Sampo he was defeated and disgruntled.

In February, the St. Charles MMA flyweight and the 2013 STL MMA Pro Fighter of the Year award winner saw his five-fight win streak come to an end after a decisive three-round decision loss to Zach Makovsky at UFC 170. The win vaulted Makovsky (18-4) to No. 9 in the UFC flyweight rankings.

Sampo (11-3) returns to action on Saturday in a location that seems a million miles away from that night in Las Vegas. Sampo will face newcomer Patrick Holohan (9-0-1) at UFC Fight Night in Dublin, Ireland. The fight will be available to watch on Fight Pass only.

We caught up with Sampo before a training session to talk about Holohan, Makovsky, and the fairly recent departure of former teammate, training partner, and still close friend, Alp Ozkilic.

KJ: What were your initial thoughts when you found out you were going to Ireland.

JS: I told my manager after I looked at the Dublin card and I was like, there's two flyweight fights and I want to fight all four of those guys so I told him if anybody gets injured I better be the first call. I started training, not like I had a fight camp, but just a little more consistent just to get my body ready in case I needed to be within striking distance. Then I came home one day from practice and my phone was blowing up. My manager was like, You ready to go to Ireland? They want you to fight a local guy. It wasnt the fight I was looking for but it was cool with me. I had about five-and-a-half weeks to prepare and it has been going good.

KJ: This is Holohan's UFC debut?

JS: Hes undefeated. Hes a ground guy. He has seven wins by submission, just a tough, scrappy dude. I watched what film they do have on him but he has no idea what real wrestling is. That is something that we have to look forward to. Also, in the back of my mind, he knows that I am a wrestler so hes going to be looking for that. I can throw the kitchen sink at him and we wont know whats coming.

KJ: Is it a rarity that a European fighter has such a good ground game? I thought wrestling and jiu-jitsu wasn't near as prevalent over there?

JS: I don't know what the deal is over there. I thought most European fighters were strikers like that but this guy does seem to be well-versed. What I did see on film is very traditional and basic. No crazy set-ups, no crazy submissions, just basic, fundamental, traditional jiu-jitsu. With the killers that I have here, the Matt Ricehouse's and all of those guys beating the crap out of me, Im not really that concerned in any regards.

KJ: What did you learn from the Makovsky fight?

JS: I look back on that as a whole and I think I put too much on myself as far as trying to teach full-time, trying to coach full-time. As far as physically, I felt great but they always say that fighting is 90-percent mental and that's 100-percent what the issue was. I got there to Vegas and I was ready to throw down but my mind was worried about my wrestlers at the state tournament and so much was going on mentally that I don't think I was able to perform to the best of my ability when I walked into that cage. Physically, I felt like a monster but if I couldn't make that sync between my body and my mind then I wasn't going to be able to perform. I still feel that it was a very disappointing fight from my view knowing that I have that much more to give. At the same time it made me realize that they speak very highly of Zach Makovsky and he had every opportunity to do so much in that fight and it felt like I was chasing him. It was frustrating because I wanted to fight, I wanted an all-out war and all I got was the guy did what he had to do to win the fight. I was there to fight; he was there to win a contest. It's frustrating from whatever angle you look at it. I can see us squaring off again and it's going to be a completely different outcome. Matt Ricehouse is big on you need to enjoy yourself and have fun when you're in that cage and that whole fight camp wasn't an enjoyment. I had too much on my plate. Thats one thing I really learned about this; if you want to be a fighter you need to be a full-time fighter. I've put teaching aside that way I can concentrate on fighting and that way I don't have to get up at 4 in the morning to get ready for work and stuff like that. It's a lot less on my plate.

KJ: Was there size/strength difference in the Makovsky fight?

JS: He was not stronger than me he was just very, very well-timed with his shots and takedowns. What really boggled me was that I was expecting him to advance, like in jiu-jitsu. I've watched the film and I get more and more frustrated. He needs to react in order for me to counter or make something happen. So I'm waiting for him in certain positions and waiting to capitalize on something and he was literally content with just holding me down and doing nothing, not causing any damage, not threatening me in any sense. I should have flipped that light switch early on and say screw this, I'm getting back to my feet because that guy cant hurt me. He hit me square in the face, hit me with his hardest punch and nothing phased me. I think he scratched me on my nose. He didn't get to see the best Josh Sampo there was. It wasn't my best day and I'm still sort of mad about it. It's good motivation for me.

KJ: I don't know if you've officially talked about it, but your friend and long-time training partner and fellow UFC flyweight Alp Ozkilic relocated to New York a few months back. How has that been for you?

JS: It's tough not only because I lost my workout partner but I lost my best friend, too. We lived right next to each other, we were college roommates, that friendship is not gone it's just not as common as it was. It was literally walk down the hall, knock on his door and sit there and talk or go get something to eat. He needs to grow and he needs a little bit bigger fish tank and I understand that completely. We talked about it before hand and I'm going to get some training in with him later this summer. It's good and i'ts bad. It's bad in that I lost a good friend of mine and a workout partner and the day-in and day-out that we used to see each other but it's good in the fact that hes at a completely new camp that I can go to and learn from. Hes getting a lot of different instructors up there, a lot of different techniques and skills that hes going to be learning. I think hes more comfortable up there. He knows a lot more people. I expected him to go to California but wherever hes happy, I'm happy for him.

KJ: With Alp being away from SCMMA, does it make the likelihood of you two ever fighting each other more of a reality?

JS: We have both said the same thing. Hes my boy and I love him but I have no problem fighting him. But, it has to be for the right reason. If it was just for another fight, then it's pointless. I think I heard the other day that the UFC has 33 or 35 flyweights, so there are plenty of guys for me to fight. I don't need to fight my old workout partner just yet. If Dana White says, the winner of this gets a title shot or if it's for the title, then I have no problem fighting him.

Sampo vs. Holohan is the first fight of UFC Fight Night: McGregor vs. Brandao. Prelims begin at 11:30 a.m. CST with the main event slated for 2 p.m. CST.