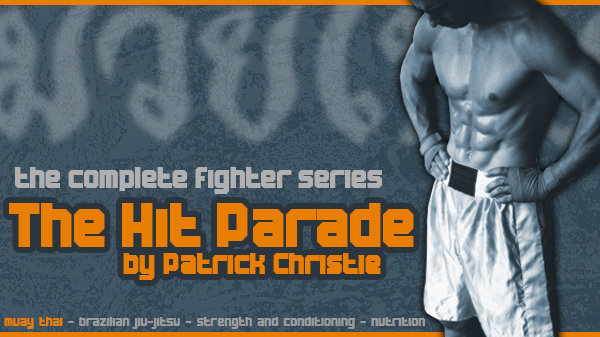 The Hit Parade
Muay Thai. Thai boxing. The Art of Eight Limbs. Call it what you will (except kickboxing) – there's no denying Thailand's national sport is one of the, if not the, most devastating striking art in martial arts.

My name is Patrick Christie and I'm the Muay Thai trainer for The Art of Eight Muay Thai, the Muay Thai program of Vaghi Martial Arts and St. Charles Mixed Martial Arts (SCMMA). I began my journey into the art many years ago and have trained and studied with Ramon Dekkers, Jongsanan "The Woodenman" Fairtex, the famed Fairtex camp in Pattaya, Thailand, Fuad Keranovic, the former coach for Vaghi Martial Arts and a multiple time champion, and Tomer Litvin, the owner and head trainer for Siam Star Muay Thai and Mixed Martial Arts in Dallas, TX. I now have the responsibility of training pad rounds with amateur and professional Thai Boxers and MMA fighters, including Quinton O'Brien, Josh Sampo, Matt Ricehouse (Strikeforce), and EJ Brooks (Bellator). My journey has been an incredible one offering the opportunity to train many first-class athletes and to travel across the United States and abroad.

So what's in store for the column? We'll look at upcoming events, fighters, and coach's tips and we'll discover what "kickboxing" means, both in the narrow and broad sense, and that Muay Thai and kickboxing are not always synonymous.

You'll meet local fighters and coaches and you'll follow your favorite teams and athletes as they compete locally and abroad. This column will be THE place for all that's worth knowing about the local Muay Thai scene.

Speaking of upcoming events, the 2012 Muay Thai Classic is right around the corner, July 5-8th, in Des Moines, Iowa. This is the largest amateur tournament in the country, with close to 500 participants this year. Competitors from across the US and Canada will compete in this multi-day elimination-style tournament, including 22 fighters from Missouri. The Art of Eight fight team will be taking six athletes to Des Moines this year – some, like "Skinny" Joe Mueller, Kirk Huff, and Joe Cox, are veterans of the event while others, like Tara Walker, Brad Lanford, and Jason Powell, look to make their debut.

Other Missouri gyms represented include Watson BJJ (coach Jason Ciluffo), Sauer MMA (coaches Doug Sauer and Liz Drew), and Springfield Fight Club (coach Brandon Mahoney). This should be an exciting event – I'm predicting a lot of hardware (aka, title belts) coming back to Missouri! I'll post results following the end of the tournament.

Stay Tuned. Add KnuckleJunkies.com as a favorite. Support your local Muay Thai fighters.

Patrick is the Muay Thai trainer for The Art of Eight Muay Thai, the Muay Thai program of Vaghi Martial Arts and St. Charles Mixed Martial Arts. You can contact Patrick at patrick@knucklejunkies.com. Please visit teamvaghi.com and stcharlesmma.com.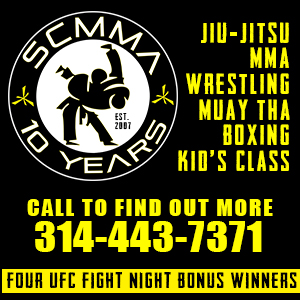 KCFA: Fight for the Troops
| Sat, July 27th
Truman Memorial Building, Independence, MO
Ultimate Blue Corner
| Fri, August 2nd
Harrah's Casino, Kansas City, MO
Shamrock FC: 321
| Sat, August 10th
Ameristar Casino, Kansas City, MO
Nemesis Fighting Alliance
| Sat, August 17th
Casa Loma Ballroom, St. Louis, MO

Tweets about "KnuckleJunkies OR @knucklejunkies"