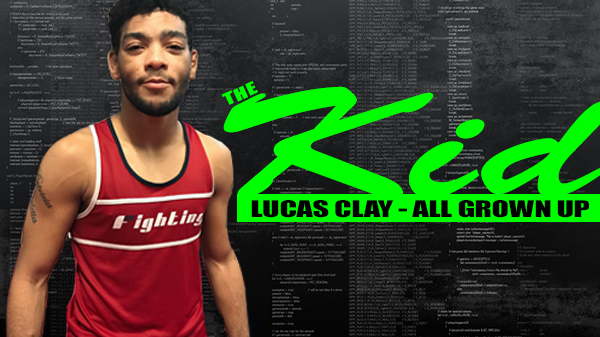 The Kid - All Grown Up
When most teens were learning to drive, Lucas Clay was on the mats learning his trade.

Born Lucas Cassius Clay, a nod to Muhammad Ali, he was taking in sparring rounds with the likes of four-time UFC vet Lance Benoist and 2016 the Ultimate Fighter winner Andrew Sanchez before he had his driver's license.

Now on the eve - with fingers crossed - of his professional debut, and a week removed from his 21st birthday, we're seeing the finished product of a fighter created inside an MMA factory. Clay was originally set to face Sean Woodson on this Friday's Gateway Fighting Series event at the Heart Of St. Charles. An injury to Woodson has left Clay without an opponent until a replacement can be found.

At 15, Clay got his start on the mats at Rodrigo Vaghi's Academy in Fenton where he learned the art of Brazilian Jiu-jitsu alongside Matt Ricehouse, Benoist, Sanchez, and many other local MMA standouts that also got their start at Vaghi's. Based on the suggestion of Sanchez and Vaghi, Clay decided to give wrestling a try, mainly because it was free training, and doing so could only help him in his pursuit of an MMA career.

Like a duck to water, Clay took to wrestling, where he was a state qualifier in both his junior and senior year in high school for Ladue and St. Charles, respectively.

"Sanchez would actually hold a little wrestling class for me and a few other guys," Clay said. "We'd come in before MMA right after school and that helped me become a better wrestler. I had no business going to state and that was because of Sanchez. All the one-on-ones he gave us."

When you jump into the deep end of the pool you either sink or swim, and that's exactly what Clay did. After finishing wrestling he dove head first into training alongside the pro-MMA fighters at St. Charles MMA.

"I've been around those guys since I started," Clay said. "They didn't take it easy on me. I've been working with them since I was 16. Sparring with guys like Sanchez, Lance, Zach Freeman. All of those guys who are big names to me. I would get in there and spar with them and they'd spar with me just like anyone else and that caught me up quick. A lot of people are held back because their gyms won't allow them to get in there and train with the big guys."

With head coach Mike Rogers leading class, Clay improved quickly. Once he turned 18 Clay starting taking MMA fights, racking up five-straight wins before tasting defeat.

"Mike Rogers doesn't train any bums. It's not what he does," Clay said. "He makes champs out of bums. You can't help but be good. I've never seen a guy been shitty here. I've seen guys struggle and Mike bring them up, and be like wow that was magical."

Following the lead of the senior fighters, Clay learned quick and on the job. He would end his amateur career at 8-1, seven of those wins by submission.

"It was a real pleasure working with Lance when I first started," Clay said. "He would actually hold the tae kwon do pads for me and nobody did that. I was always grateful for that."

Clay attended St. Louis University studying Organizational Leadership and Technology, but decided to leave to pursue his dream in MMA.

"This is my dream," Clay said. "You only get one. I didn't want to be a shoulda, woulda, coulda kind of guy. I feel like I can do something with this. It's kind of my namesake, you know. I'm Lucas Cassius Clay. I was born to fight. My dad was a judo competitor and a kickboxer and he passed it along to me."

A big part of Clay's development is credited to the personal attention from SCMMA assistant coach Jeff Henry.

"I got Lucas when he really started making the move into MMA, he was a Vaghi jiu-jitsu kid," Henry said. "I remember the day when Rogers told he wanted me to take on a couple of these kids. At the time there were two-three guys I was going to take under my wing, Lucas was one of them."

Although raw, Henry saw the potential.

"I remember asking somebody, how old is he?" Henry said. "They said he just got out of high school, just got done with wrestling. I was like 'what are you talking about, just got out of high school', I thought he was like a 22-year-old guy. He was in there doing rounds with Lance Benoist, Zach Freeman, and EJ Brooks. The great thing about Lucas was that he always competed. He was never an easy go, even with those guys, and that's why he has their respect."

With focus, Clay's become a dynamic, creative striker. The results of his work were on full display in a K1 match-up with Montrel James earlier in the year. Clay unleashed a barrage of strikes that included ax kicks, hook kicks, and a spinning kick to the liver.

"When we started, we were working on striking, it was very immature," Henry said. "He had a little bit of a karate background. So we really started working on his hands, movement and how to make his style more dynamic. Ever since then we've been together."

In 2015, on a whim, Clay tried his hand at the local Golden Gloves tournament. He would go on to win his bracket but decided not to pursue the tournament at the next level.

"I just showed up and boxed," Clay said. "I just wanted to punch something that particular weekend, so I jumped in and did it."

Recent addition to the team, talented lightweight prospect Luis Pena, has been another aide.

"Luis Pena is like a brother to me since he's moved here," Clay said. "Since he literally moved into the gym he's always pushing me. My wrestling wasn't as good when he first came, but he's brought me up to par. His jiu-jitsu wasn't as good as mine, and it has come so far. He's traveled a bit and brought back some knowledge."

With a wealth of talent, Henry and the staff at SCMMA see a bright future for their young fighter.

"The sky is the limit for him," Henry said. "He has a very different style and doesn't try to change it. We try to work with his style, and what that has done for him is allowed him to really grow. I think his ceiling is really high. A lot of people are great fighters but they're not going to get any better. Lucas is a great fighter and has a lot more ceiling to go."