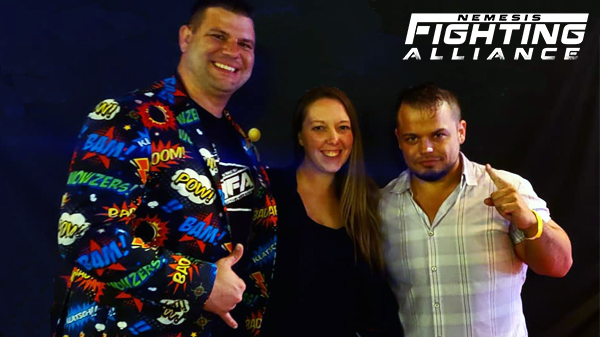 The NFA Carries On
Donned in a multi-colored sports jacket and powered by a never-ending gas tank, Brad Cary is doing everything he can to make the Nemesis Fighting Alliance all that it can be.

Since putting defibrillators to the promotion in the Spring of 2018, Cary and Marlene Kelly have assembled a dedicated team around them to push the promotion to new heights.

Last weekend was Cary's fifth show since taking over the Nemesis brand. Two more shows are on the 2019 calendar.

"MMA is growing again," Cary said. "It's not back to the hey-day of the Ricehouse's and that stuff, but I think it's coming. It's coming back and growing in a large way."

Last weekend marked the third time NFA set up shop at the Casa Loma Ballroom.

"We love the venue and a lot of the fans do too," Cary said. "It was built in 1929, so it has that nostalgic feel with the balcony and everything."

Cary was the title sponsor of Gateway Fighting Series and before that the original incarnation of NFA. As smaller promotions like GFS and the NFA closed up shop along with larger ones like Rumble Time and Fight Hard MMA, Cary saw a void that needed to be filled.

"We helped (Nemesis) before and did a lot behind the scenes," Cary said. "Then it went away and then we watched other promotions come and go. So, we just felt that the community needed more. We had long talks about it and then stepped up. The energy that the crowd brings, the camaraderie, it's been great."

Cary, Kelly, and matchmaker Drew Ingrande have tinkered with the NFA recipe each and every time out, adding new spices and seasonings here and there.

"You live and you learn," Cary said. "We never (live) streamed before, then in December we started that and went on from there. We keep trying to step it up more. This time, and from here on out, we're teaming up with Dave & Busters for all of our official weigh-ins there. There's a lot more stuff to come. We keep growing. We keep trying to get the community to grow. The fans enjoy it and keep coming back and that allows us to come back."

This past NFA show, This is War, not only featured St. Louis-based fighters but also pulled from neighboring states

"As far as fighters, we're trying not to just stay local," Cary said. "Like tonight, Will Shutt came in from out of town. We're trying to broaden our mirror instead of just constantly recycling from St. Louis. It's great to bring in some fresh people from outside the scene and see who can step up. We have the No. 3 bantamweight in the Midwest (Eric Ellington), it's hard to find him a fight."

From fan, to security guard, sponsor, and now promoter, Cary has been a part of the sport from multiple angles.

"It's a love for the game, a love for MMA," he said. "I've always loved it. Trained it. Lived it. Breathed it. There are some negative things around it but other than that, the community itself is a positive thing. To me, it is also like another business model. How do you run it? By making relationships and passion. I have a passion for the sport. That helps drive everything. We will get in the trenches and go as hard as we can.:

Cary is the first to admit that without his team, NFA wouldn't exist.

"Marlene is everything behind the scenes," he said. "She is the one who's on top of things. If it weren't for her, I wouldn't do it. I might be a face, but without Drew, none of these fights would happen. He's doing an amazing job."

The next NFA show will be held on August 17 and the following is October 5th.