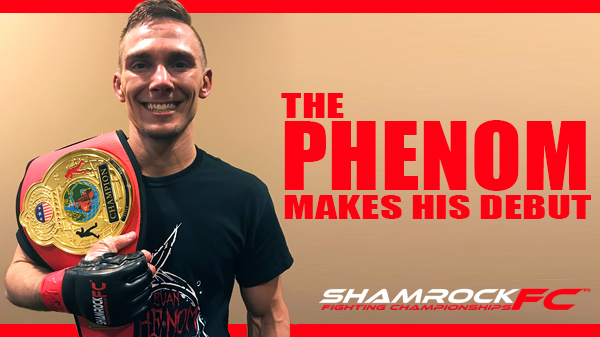 The Phenom Makes His Debut
On the main card of Friday's Shamrock FC 309, one of St. Louis' true phenoms is set to make his professional debut.

At only 21, Evan Elder will make his long-awaited jump to the pros when he takes on Antonio Atkins. Elder won the Shamrock FC amateur lightweight title in March, then went on to defend his title earning a Shamrock FC professional contract in the process, and ending his amateur career a cool 6-1.

Elder's name has been circulating the St. Louis MMA scenes for several years, competing on kickboxing events, a staple for the undercards of Nemesis Fighting Alliance. His bouts were always one to watch, and at only 16 he quickly showed he was a star on the rise.

"I've been around for a while," Elder said. "I started kickboxing back in the day before I was 18. I wasn't allowed to compete in MMA. I started training when I was 14, started competing when I was 15 and fell in love with it right away. Been doing it since then, I don't plan on stopping anytime soon."

Despite being unable to compete in MMA, Elder immersed himself in training the mixed martial arts, and the fruits of his labor are coming to yield.

"I wasn't frustrated, but I was anxious," Elder said. "I was excited every single time I watched them. I knew I had to pay my dues and put the work in, in the gym. I was still preparing, and training the whole time, training mixed martial arts, I just couldn't compete in it. Now I'm just excited to show my skills after training for three or four years."

Having spent the bulk of his formative years on the mats at the Hahn's MMA Academy, it was a trip to the West Coast that opened his eyes.

"I started training at Hahn's when I was 14," Elder said. "I trained there for four or five years then moved out to California and trained at the Nick Diaz Academy for about a year. I moved back home this December and had been training at Finney's MMA since I've been back. I was definitely the new kid on the block. Nobody knew who I was. It was awesome though, I only had trained at Hahn's before, so I only knew what that one gym was like. When I moved out there, I got to experience leaving the area and living somewhere new, experiencing California, but the gym scene was awesome."

It was a humbling experience for the 20-year-old prospect, who at the time was giving more licks than he was taking.

"I went out there thinking I was alright, but I got frickin' wrecked," Elder said. "I got chewed up and spit out, and that was a good reality check to show me exactly what I needed to work on. That's exactly the reason I moved out there because I knew there had to be more than just what was around here. I wanted to experience it and see what I was in for."

Since the early beginnings of his MMA journey, Elder's brother in arms, Rashard Lovelace has been in his corner.

"Rashard and I have always been super good friends," Elder said. "I met him over at Hahn's and still to this day he's one of my best friends. He was for sure my best training partner over there. We both worked at the gym so we got to train all the time with each other. On top of training all the time, we built a really good friendship outside of fighting."

The bond between the two remains, and as usual, Lovelace has helped Elder get ready for Friday's fight.

"He's helped me significantly, especially with my striking." Elder said. "I still believe he's one of the best strikers around here. He's taught me so much, and gave me so many different looks I'm not nearly as caught off guard by stuff because of him. Because of how talented he is and how many different looks he has, he's so unorthodox. He's really improved my whole striking game a lot."

Looking back at Elder's amateur run, the absolute barn-burner of a fight with Colin Parr stands out among fans, but it's the first round armbar of Brad Ragan, that he is most proud of.

"The Luis Felipe or my last fight with Brad Ragan would be what I would say is my best performance," Elder said. "I felt really confident and I didn't get to showcase a lot. I wasn't able to find the distance with him at first, because he was longer than I had anticipated. Once the fight settled in, I got going."

It's safe to say Elder has fought the best of what St. Louis has to offer. In addition to Parr, Felipe, and Ragan, the only blemish to his record was against now UFC lightweight, Luis Pena.

"I've fought quite a few of the best 55'ers around here," Elder said. "I wouldn't have minded taking a couple more amateur fights, but I was ready. I'm excited, and I'm ready to turn that corner."

His opponent on Friday is a bit of a mystery. Antonio Atkins hasn't been very active in the MMA circles, with a 2016 loss being his last official bout.

"I heard a bunch of different things about him," Elder said. "I've heard he hasn't fought in five years, and then one of the guys from the gyms said he just fought a year and a half ago. I really couldn't find any tape other than a couple fights from 4-5 years ago. I'm not really going off that, there's no telling what he's been doing in between there. I don't really know anything other than he's freakin' huge, he looks as jacked as can be. I think we're about the same height."

Despite lack of scouting, the plan remains the same for Elder, get in there and do what he does best.

"I'm not too worried about studying other people," Elder said. "I'm a firm believer of getting in there and opposing your will. Don't adjust to them, make them adjust to you."

Not looking past his opponent, Elder his short-term goals seem locked in place, with his bout with Atkins step number one.

"I'm taking one fight at a time," Elder said. "I'm going to start with this fight and get my wins however I can and come out as healthy as possible to keep the fights rolling. I'd like to finish out my contract with Shamrock FC 3-0 and see where it goes from there."

Elder vs Atkins is one of the featured fights for Friday night's Shamrock FC 309, live at the River City Casino and streaming online via FloCombat.