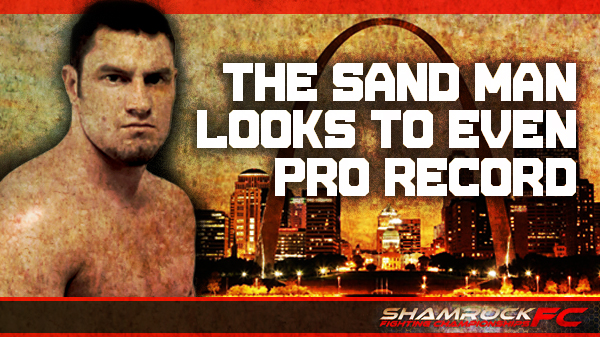 The Sandman looks to even Pro Record
By
Debo
| Knuckle Junkies
Bo "The Sand Man" Smith has waited nearly four month to climb back in the cage. Smith, 22, from Kennett, wants to even his pro record after dropping his pro debut to Josh Weston by unanimous decision in June at the River City Casino.

"Josh gave me an introduction to what it takes to be a professional," said Smith.

Smith (0-1) will return to the cage in the welterweight division Saturday when he takes on Kyle "The Stun Gun" Walker at Shamrock FC Relentless card Saturday at Lumiere Place Casino. Smith, fighting for Team Punishment, has an extensive background in the ring boxing.

"My plan was to box and win championships boxing," he said. "Fights in the area became tough to find so I started taking cage fights."

Committing to full time training has been one of the biggest changes Smith has made since his pro debut. He works exclusively with his dad and head coach Tim Smith. The older Smith had spent time boxing and competing in tough man contest during his career. The younger Smith climbed into the ring boxing at 16 at tasted instant success. During the first two years of his amateur boxing career Smith racked up a 19-1 record before locating willing opponents became an issue.

Smith competed on his first MMA card at the age of 18.

"It was fun and I enjoyed it so I was motivated to be good at everything," Smith said.

During his amateur career Smith stayed busy, putting together an impressive 27-4 record. Although he has a formidable background in boxing and prefers to stand in the middle of the cage and put on a show for the fans, Smith is a detailed technician who has showed excellent submission skills via a variety of chokes throughout his amateur career.

Walker, an Illinois native, will be representing ATT Evolution in St Louis owned by Tyron Woodley. Training under the direction of Woodley has allowed Walker to step up his training and fight preparation.

"I have spent a substantial amount of time in this camp sparring and training with people who are better then myself," said Walker. "A lot of time sparring with Woodley and Luke Nelson has me feeling very confident."

Walker evened his pro record at 1-1 in June defeating Jake Buehler with a tough three round decisions. It has been a long training camp for both Smith and Walker.

"Being ready and focused I want to show my skills in there and put on a good show for the fans," said Walker. "I learned a lot against Buehler and I just continued to work on my cardio, head movement and throwing good crisp punches."

Smith has stepped up his training and is now just concentrating on his MMA training everyday. He runs four-to-five miles a day during camp, understanding as a young professional increasing cardio in between matches is critical in climbing the ranks and getting better fights. He has also increased his working the gym, training on the bags, utilizing the training mask, hitting the mitts and jumping rope. With a little downtime and long training camps for both Smith and Walker both men feel like the have made increases in their cardio.

Photo courtesy of Shamrock FC.