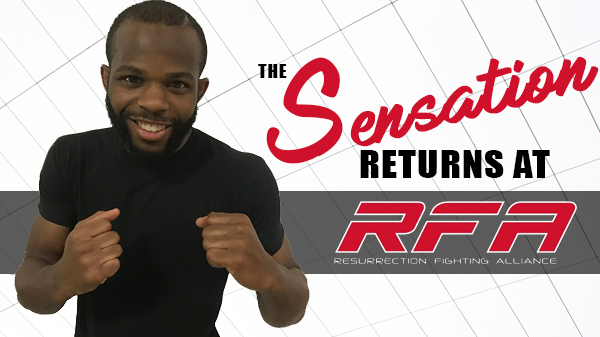 The Sensation Returns at RFA 44
It's been a minute, but one of the area's best flyweights is back in the cage on Friday night.

Armed with his blinding speed and trademark smile, Ken "The Sensation" Porter is training hard with a whole slew of new tricks up his sleeve and confidence at an all-time high.

Fully recovered from injuries, Porter has circled the wagons and is ready to launch his next offensive.

"It's been over a year just getting myself together," Porter said. "I've working on different aspects of my game, been improving, and working off of what I already got. I feel like a really successful career going and I want to keep it successful."

A trip to Thailand to train helped Porter restock and retool his techniques building off his already incredible quickness.

"I went to train at Tiger Muay Thai for a bit, it was a great experience," Porter said. "The guys out there are great, very talented. All you can do is make yourself better out there. Everyone out there is good so you have to push yourself to get better. I built off my speed, a lot of stuff I can do off my speed now. I've been adding combinations, more technique to my speed. I was technical but now I can do a lot more now. With people who've done Muay Thai their whole life, putting it on you like that, it's a whole different experience."

The last time we saw Porter in action it was at RFA 28. Porter was matched up with the former RFA flyweight champ Matt Manzanares, and after three close rounds walked away with the biggest win of his career. improving to 9-2.

An injury at a grappling tournament forced an extended break inside the cage and a missed opportunity of potentially a big fight.

"That fight showed me really where I'm at," Porter said. "I can compete with the big dogs. I got offered a ton of fights after that, but I had to turn them down because I had injuries. I won some grappling tournaments and actually tore a groin muscle in between that and had to turn down a really big fight. If I would have taken that fight I probably would be in the Ultimate Fighter house right now."

The win over Manzanares has improved his confidence and show that Porter is ready to break through to that next level of competition.

"I feel good because I know I can compete with all of those guys," Porter said. "The sky is the limit. I'm still young. I know I've got to keep working hard, my time will be there, it's coming. After I win this fight, hopefully, that door opens up for me. I feel like I could get in that cage every day. Right now I know that when I get in that cage, nobody can beat me in the cage. If you get in there with me, just know I'm going to win."

Porter's next opponent is Nick Urso (8-2) out of the famed Jackson-Wink MMA in Albuquerque, New Mexico.

"Nick Urso is talented but a very basic guy," Porter said. "He's a very good guy, but I feel like I have the advantage that I'm faster. He might have a little strength but I got strength too, I've got wrestling behind me, I've got everything behind me right now. We'll see what happens in this fight."

Despite the high-profile camp, Porter's coach Steve Berger, a UFC-vet himself is very confident in his fighter.

"I know Urso has wrestling experience, but I don't see a lot of great wrestling out of him from the videos I've been watching," Berger said. "I don't see his hands being the level of Ken's hands. He comes from a great camp, I know he's been training hard. Every factor I have seen, I like my guy's abilities better: wrestling, striking, and jiu-jitsu."

With a rock-solid gameplan in the books, Berger believes's Porter's best asset is his ability to listen and absorb coaching.

"Ken is a good fighter who listens to everything I have to say," Berger said. "When you have a fighter who listens it makes everything and starts doing it, it makes it really easy to work with. Kenny's best factor is that he'll listen and do what he's told and he goes, goes, goes with it."

Since making the switch to Berger's MMA, Porter is 7-1 with his only loss coming at Titan FC.

"Steve has a wealth of talent and knowledge," Porter said. "Everything he's teaching me right now I'm just soaking it in. If it works for me it works for me, if not I keep drilling it until it does. Daniel (O'Connor), Kelly (D'Angelo) are fantastic partners I learn from them and they learn from me."

With his slot in the co-main event locked in, Porter hopes to win some new fans on AXSTV and just maybe just impress the right people to open the door to the UFC.

"I'm highly confident, can't wait to get in there and see what's next," Porter said. "I'm looking for a knockout, I hope I can make it look good too."