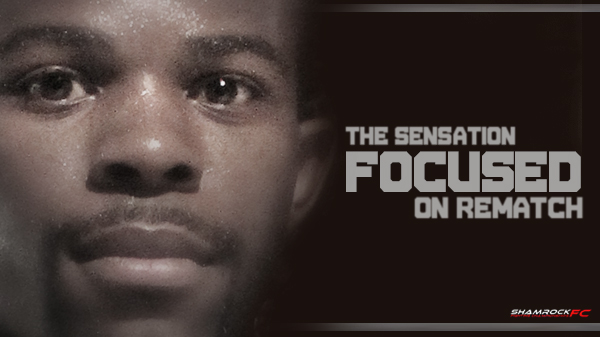 The Sensation focused on rematch
By
Debo
| Knuckle Junkies
In professional sports there can be plenty of ups and downs.

Sports fans love to see rematches and Saturday Ken "The Sensation" Porter will get that opportunity when he faces Zach Harvey (1-5) as part of the main card of Shamrock FC: Uprising. Porter now representing Finney's MMA will face the 26-year old Harvey in a rematch of their March 23rd fight.

Porter (2-1) was in control of the majority of the first round when he got caught by a desperation punch from Harvey that staggered him. Harvey instantly took the fight to the ground and applied a tight guillotine to get the tap out at just seconds from the end of the first round. Porter hopes to avenge the loss Saturday when the battle continues at the new River City Casino event center.

River City Casino seats 1600+ with standing room only, and will feature four video screens and a brand new cage.

Porter, 23, has bounced back winning his next two fights, improving his record to 2-1 since his pro debut. He scored a first round stoppage via head kick in Tulsa Oklahoma in early May, and before that defeated Rocky Salas on April 20th in Springfield, Illinois. Porter is a seasoned fighter who made it clear he was able to learn a lot in his lose to Harvey.

"After my first pro fight I learned I have to use all my skills and finish" Porter said. "This is my fourth pro fight and the main lesson I have learned is to finish."

Porter is a well rounded athlete who possesses the raw combinations of strength, power, speed and quickness. He is able to match those skills with excellent cardio, and mixes a strong stand up game with very good wrestling skills.

During his amateur career Porter posted a reported 48-3 record and a 14-1 kickboxing record. Porter realizes he has a well versed skill set and he something to he developed in fear of becoming one dimensional in the cage.

Porter has recently been fighting under the direction of Jesse Finney and David Mirkitani at Finney's MMA. While in high school, Porter played football, soccer, wrestled and track. He sometimes has to be reminded of the wrestling.

"I reminded Kenny not to forget his roots in wrestling. That is the thing you have done the most." Mirkitani said. "That comes easiest in a time of crisis."

Mirkitani has a history with Porter since recruiting him in high school. Porter later spent time under the direction of Mirkitani wrestling at Meramec Community College in Kirkwood, Mo. Porter excels at looking for weaknesses in his opponent and has no problem relying on his wrestling skills.

"Kenny has a great level change which is crucial for mixed martial arts and great timing." Mirkitani said. "He has the ability to shoot when his opponent is stepping in something he has practiced and drilled. Kenny is a smart fighter first of all so in my opinion he will win a lot of fights."

Porter has gained confidence in his last two wins but he recognizes that he needs mix it up more and use his entire arsenal to attack opponents. Saturday's opponent Harvey will need a much different plan of attack in the rematch. Harvey had a hard time finding his range against Porter who is tough to hit with his speed in the cage. He doesn't give his opponents great angles to strike and his quickness makes it frustrating for opponents to strike Porter with a flush punch.
Harvey elected to pressure Porter in the first fight. Porter found his range and was literally battering Harvey at will for the first four minutes in March. When what appeared to be one last desperation punch caught Porter who was staggered and was choked out just moments later. Porter understands that this fight might involve more wrestling and ground game. Porter has gained some additional confidence and cage time since March in his two wins.

To succeed at the next level he needs to be a finisher. This rematch presents the perfect opportunity to be aggressive and understand he can win with his ground game or back to his favorite thing strike opponents if he needs to resort to his stand up attack. Saturday we will see if the "The Sensation" can deliver in front of the home crowd this time.

Shamrock Fighting Championship: Uprising event will be held at the River City Casino on Saturday. Doors open at 6:30pm. Amateur undercard starts at 7:30pm. This pro/am card features Adam Cella taking on Justin Demoney in the main event.