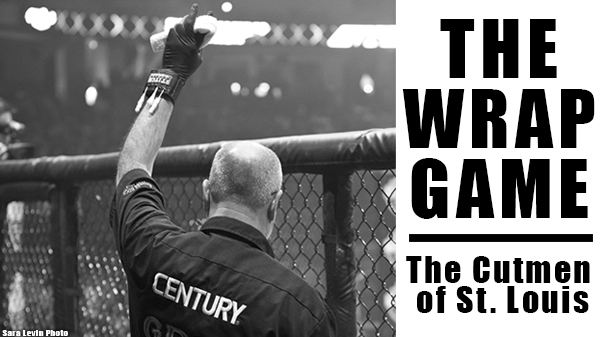 The Wrap Game
Long before the fans start to arrive, and the first bell has rung, the job of the cutman has already begun.

It's his responsibility to get all of the fighters ready to compete, safely, and with as minimal damage to their hands as possibly considering the nature of what they're about to do with them.

Armed with several yards of athletic tape, he carefully wraps the hands of each and every fighter on the card, and while methods may vary, the end result is the same, keep the fists and knuckles from breaking under the stress of punching another person in the face.

Despite our relative distance from the "fight capital" of Las Vegas, St. Louis has produced some of the best cutmen in the business.

Matt Marsden worked the local fight scene for many years before landing a permanent gig as the main cutmen for Bellator. Marsden now a resident of Florida continues to work year-round for Bellator and was featured prominently one and only season of Bellator reality show Fight Master on Spike TV.

You can read more on Marsden here.

Another local, Michael Driesbach, also honed his craft here before getting the call from the big show. Dreisbach founded the Bout Management Federation sanctioning body, and in addition to running the organization also worked as the cutman for many of the shows he sanctioned.

Now, Dreisbach works by assignment for UFC and Invicta while working as a full-time PT Tech for US Army in Oklahoma where he moved to last year.

"I started with the local scene." Dreisbach said. "Matt (Marsden) gave me a call about working with Titan FC. Titan got me into the KC area which got me to Invicta. This got me working with Stitch and Don House, and they got me into the UFC."

Dresibach has been with Invicta since IFC 3, and will be working the corner this weekend when Invicta returns live to UFC Fight Pass.

"The women still have that attitude of 'we have to prove ourselves," Dreisbach said. "They always come out with a chip on their shoulder. That card in Iowa with Barb headlining was the bloodiest fight card I've worked. Everyone brought it."

He's also worked over 15+ shows with the UFC with trips to China, Germany, Canada, and next month a 20+ hour flight to the Philippines.

"I would have never have dreamt of saying I've been to China or Germany and this is all from my work as a cutman." Dreisbach said.

Now considered a veteran of the industry, Dreisbach has this advice for aspiring young cutmen.

"It's all about putting your time in." Dreisbach said. "Get in with the local gym, putting your time in working on wrapping hands. Paying your dues. A lot of on-the-job training. Don't be afraid to ask questions and try and work with legit people."

You can read more about Dreisbach in our story from September of 2013.

---

Buried deep in the bowels of the St. Charles Family Arena, Sid Gee, a veteran cutman of over 20 years, is setting up shop. Gee arrived at the arena at 4:30 and will stay until the final bell.

"I prepare all my gear, make sure I have tape and gauze." Gee said. "Promoters sometimes provide it and sometimes they don't, sometimes they don't provide the best stuff. I only like the best stuff, my stuff. I have to make sure I have my endswells, my EPI, my swabs. I make my own swabs. There is a lot of prep time that goes into it before show starts."

A cutman shares a quiet and intimate moment with every fighter on the bill, making small talk about their upcoming fight, and wishing them good luck as they rejoin their team and make the final preparations before it's their turn to step into the spotlight.

"I'll talk to them find out how many fights they've had," Gee said. "Are we doing kickboxing or MMA? You get to know the guys, and at the end of it I'll sign it, and smack it and say 'that's the winning wrap, that's the knockout wrap!' and at Bellator I had two guys who've never knocked anyone out get knockouts, because they believe in that.

"I'm a cheerleader." Gee said. "When I'm in their corner I tell them 'I'll fix your cuts, I'll keep you in the fight', don't worry."

If you've fought in St. Louis, chances are you've had a Sid Gee hand-wrap, and he's one of the best. He can typically wrap a hand in 7 or 8 minutes, sometimes 6 if he's really in the groove.

"I've wrapped thousands of hands." Gee said. "I did so many amateur shows years ago that I'd do 20 to 25 fighters a night. I've wrapped every amateur fighter that fights a lot, all the pros coming up, all of our UFC guys, just about anybody that's fought on any major productions."

In addition to being a mainstay on the local fight scene, Gee has worked for Bellator over a dozen times, and has also wrapped hands for ESPN Boxing, ShoBox, and K1 in Japan.

"On a show like Bellator at the weigh-ins they ask them 'when do you want your hands wrapped?" Gee said. "The night before they have a schedule they hand us. It will say wrap this fighter at 4:30, wrap this fighter at 5. We know ahead of time when we're going to wrap them."

On this night, much like every night Gee always arrives early to get setup.

"I like to get the layout, like to see what's going on." Gee said. "I don't like to rush. I like to take my time and make sure everything is prepared. I get a schedule and wrap the bottom up. Most of the guys higher up l don't like their hands wrapped too early. So I wait until intermission and wrap them then."

This night is particularly special as Gee is training a new guy, Kevin Monahan. A military guy, and veteran of several Middle East tours.

"He called me up and wanted to be a cutman. " Gee said. "He knows the cuts really well, but doesn't know the hand wrapping. So we've done two or three hours of me personally training him. He's come with me to three or four shows, jumped right in and picked it up quick."

Gee's normal partner for these events is John Davis, a local fighter, and excellent cutman. Davis may be leaving the cutman world behind as he peruses political aspirations, and was recently elected Fire District Director in Pacific, MO.

It's important that Gee passes on his craft as cutmen move on or get promoted to higher profile shows, and local shows are left without trained workers. Or on a night like tonight when two or more local shows are happening at the same time, the pool for cutmen can be spread thin.

---

On the same night in April where Gee and his new trainee are working a show at the Family Arena, across town at the Lumiere Casino, another crew of cutmen are tending to the fighters. This time for Shamrock FC, one of the area's longest running promotional fight organizations. Jeremy Johnson and Craig Nasello are a two man crew assigned to the job.

Like cutman Sid, Nasello likes to get hands wrapped early in order to shift his focus on the in-cage action so he can worry about stopping cuts.

"I usually start tapping hands from the first fight to the last fight." Nasello said. "Some guys don't like to be wrapped early but we have to be at the cage for the fights so I try to get everyone wrapped ASAP. After that's done it's fight time and that's usually the easy part of the night for me. I'm much more relaxed then. I really try to keep and eyes on my guys that are fighting so if there is a problem I can prepare for it so as soon as the bell rings I can get in and take care of any problems they are having."

Nasello remembers fondly a night in Springfield, IL when he worked a fight between Fallon Fox and Tamika Brents, this was for for Capital City Cage Wars.

Fox turned Brents into a bloody mess reminiscent of a Friday the 13th movie. Fox bullied Brents into the cage and went to work on her with a nasty muay thai clench. A cut opened up on Brents' forehead, and blood began to spill.

"This was one of the most brutal fights I've ever worked." Nasello said. "Sid Gee and I were the cutmen on the show. It was by far the bloodiest fight to date for me. It took me and Sid both to stop all the bleeding on Tamika Brent's. There was so much blood they had to bring out a mop and bucket to clean the cage for the rest of the fights that night.

Johnson has worked for high profile shows like Titan FC and the all-women promotion Invicta, and is the lead cutman for Shamrock FC. Johnson, like the fighters he tends to has paid his dues improving his craft in the local St. Louis fight scene.

"I remember my first time wrapping hands and cornering a couple of fighters at the South Broadway Athletic club." Johnson said. "I was literally sitting on a ladder next to a mop bucket that smelled like three-week old beer with all of my tape and gauze sitting on an old pool table in the back. I propped open a door to the outside only to see a homeless person relieving himself on a tree while a couple of 'fighters' smoked. I figured 'This must be what paying my dues means."

One fight in particular that comes to mind for Johnson is a fight that echos through the annals of St. Louis MMA fight history.

"The bloodiest fight I have worked which was Adam Cella's corner for the Cella /Gwaltney fight at Shamrock FC." Johnson said. "It took more swabs of EPI and Qwickaid than I have ever used on any fighter to stop the bleeding on his forehead. It was to the point you could smell the iron on him from the blood."

Like many cutmen, Johnson's transition to cut work was a natural progression from already being immersed in the sport.

"I have been training in MMA since around 2004." Johnson said. "I have assisted in coaching and training with my background in Judo and full contact karate. The work as a cutman was a logical next step. There was never really anyone to wrap hands or the lines were so long for the person wrapping that I saw a lot of coaches wrapping hands for their own fighters. As I moved gyms and began to help out more I worked on the hand wrapping skills much more and called in some favors from some pro cutmen that I knew through my MMA radio show."

Johnson hosts "That MMA Show" an live radio show on Saturdays 1-2pm CT on Indioradio.com and features National and Regional guests calling into the show..

"I got some good advice from Stitch Duran (UFC), Juan Ramirez(Showtime Boxing), and Mike Rodriguez (HBO boxing) and just continued to pursue the craft." Johnson said.

---

Tape, gauze, and scissors is all you need to wrap hands, but when you venture into the messy work of stopping cuts, the list of requirements you need rapidly grows.

Water, ice, towels, vaseline, cold compress, coagulates, and q-tips are just a few. Veteran cutmen will strap all these items to their body like an EMT, ready to rush in between rounds and attend to any kind of wound.

A good cutman is worth his weight in gold, a bad cut can stop a fight, but if a skilled cornerman is able to tend the wound, he can keep a fight going. His importance to the outcome of a fight cannot be undersold.

"Stitch Duran is the personal cutman for Andre Ward and Wladimir Klitschko" Gee said. "He makes hundreds of thousands of dollars for being their cutman. Klitschko got cut, he kept him in the fight. Stitch saved the day, and now he's World Champion. So there's a lot of dollars there."

Keeping a fighter in a fight can also affect their career trajectory.

"Alex White, when he was fighting for Jenkins." Gee said. "He had a real bad cut in his scalp, I saved him, fixed that cut, and he ended up winning the fight, he kept his undefeated streak and went on to the UFC."

One cut in particular sticks out to Gee, it was the main event for Titan FC at Memorial Hall in Kansas City.

"Probably the worst cut I've ever seen," Gee said. "I worked Titan and Jorge Gurgel fought Mike Ricci. Ricci had him on the mat, him him with three elbows that split him from his forehead all the way to his cheekbone. I was able to stop the bleeding, but they eventually stopped the fight. It was a five inch cut"

Gee was a professional fighter in the 70's and 80's and is still heavily involved in the fight scene with his work as a cutman, and teaching private Karate lessons.

"I tell people I have the best seat in the house and they pay me for it," Gee said. "Most cutmen say they'd do this free, and we would, but it's really a great job."