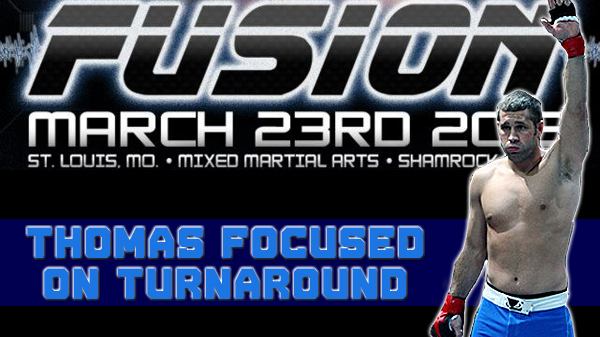 Thomas focused on turnaround
TJ Thomas dove headfirst into mixed martial arts and along the way picked up more than a few lessons at the school of literal hard knocks.

Still just 24, Thomas has sharpened his sites and is looking to give his career a jumpstart. That first step will begin at Shamrock Fighting Championships: Fusion slated for Saturday at Lumiere Place in downtown St. Louis.

"I'm ready to get my head out of my ass and get my record turned around," Thomas said. "Mentally, I feel as strong as I ever have. I'm working on rebuilding things and taking fighting more serious.

Thomas had just six amateur fights before turning pro as a 19-year-old.

Once a pro, Thomas racked up a who's-who of opponents with names like Matt Ricehouse, Lucas Gwaltney, Sal Woods, and Rashid "The Black Spartan" Abdullah. The only problem with fighting the area's best as a young pro is the reality of suffering setbacks. Thomas is 2-6, according to Sherdog.com.

"I would never say 'no' to a fight," Thomas said. "That may not be the smartest choice."

Around a year ago, Thomas took a rest from the sport around the time of the birth of his son. With fatherhood comes added responsibility and Thomas has become rededicated about everything in his life.

"Before, I would go train just to go," Thomas said. "I would never do cardio. I was cocky. But I got knocked down a notch and I feel like I'm in better control. I've matured."

Thomas last fought in January, 2012 when he lost to Woods in the first round at a Fight Me MMA event after Woods landed a big knee to the stomach.

On Saturday's main card, Thomas will run into newcomer Thomas Haney. Haney, a striker, had this to say about Thomas on a Shamrock Fighting Championship: Fusion preview video:

"This is a good test for me. I plan to put on a show and I think he plans on stopping that show but it won't happen. I won't let it happen," Haney said. "Stand up? No way. He's going to take it to the ground fast. I plan on knocking him out. I plan on taking him out in the first round."

In Haney, Thomas sees the perfect opportunity to get a much-needed 'W' that help hopefully jump-start his career.

"He's a brawler. He thinks I'm scared of his hands, I'm not. I am trying for knockout of the night. He lacks a lot of skills and I can finish him from a lot of places but I would rather get the KO."

This will be Thomas' first time under the Shamrock Fighting Championships banner. A former hockey and lacrosse player during his days at Oakville, Thomas turned naturally to MMA.

"I had that tough guy mentality and I thought I could do it," he said. "From there, things got interesting and I've been training ever since."

Thomas began his training at the HIT Squad during the Matt Hughes era and from there moved with Kyle Watson to Watson Martial Arts before segueing over Finney's MMA for the past six months.

Thomas has solid defense on the ground and seems to flourish in scramble situations, where he capitalizes on opportunities given.

"I like to stand and throw. The crowd likes it and I'm not bad at it," Thomas said. "I also have the ability to get out of weird stuff. It seems like I have been doing it so long that it all just comes together."