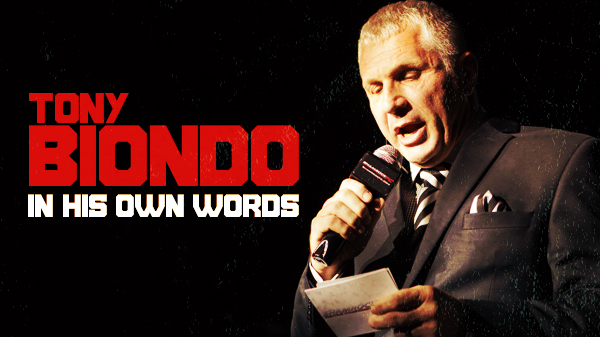 Tony Biondo, In his Own Words
When the crowd goes dark and the house lights hit, Tony Biondo will take his familiar steps to the center cage on Saturday night.

As the long-time ring announcer for Shamrock Fighting Championships (and previously for Cage Championships, two of the longest-running and most respected promotions in the region) Biondo has introduced and then trumpeted the results of hundreds if not thousands of bouts during his 10-plus years in the combat sport game.

Impeccably coutured and a delivery that is equally polished and resonate, Biondo is able to elevate the fight night experience.

But much more than a ring announcer, Biondo was a key cog in promoting some of St. Louis' first high-profile MMA events, the storied Battle at the Ballpark events. Also, he and his wife Tami have been the shelter to the storm for many up and coming fighters, helping them land part-time work, work angles on sponsorship or just sharing a friendly ear or a plate of food. Passionate about Brazilian jiu-jitsu, Biondo recently earned his purple belt under Ezra Lenon at Finney's Hit Squad where you can find Biondo damn near every day either working and tinkering with his grappling game or sharing and passing along what he's learned to others. Oh, and if you are looking to have a St. Louis MMA-themed wedding, he should be the first person you dial up.

At 48-years-old and as on top of it as ever, there appears to be no slowing down, especially as SFC revs up for more shows than ever in 2015. So before he grabs the ears of another sold out crowd at Lumiere Casino, here's Tony Biondo, In His Own Words:

I grew up in Valley Park. My dad worked in a warehouse, Maritz's, over on Highway 44 and mom took care of us. I played baseball and basketball and went on to play some college baseball at Jefferson College where I was center-fielder.

Baseball is in my DNA. I love baseball. The town I grew up in, it's had a rich history of baseball. It's had some good players come through there and some outstanding players since I've left. Off and on since I left Jefferson College I still do a little bit of coaching there. I help out on the recruitment camps that they have every year and still go on spring trips from time to time.

I started training at Rodrigo Vaghi's at his old school and by old school I think it was his second school, right off of Lindbergh, and I ran into Steve Berger, Mike Rogers, Jon Menke and we had an opportunity. Al Hrabosky's Ballpark Saloon kind of jumped in our lap.

We did four shows over there, I think. The first one was off the hook. We had 1,700 there in that barn. They were pretty excited about that. We had that access to the Cardinal fan base. We had that presence in the bar. This was 2004-05.

That was the beginning with me. Getting to know Berger and Rogers and those guys were actively fighting then. Rogers with the King of the Cage and Berger, of course, with a couple of campaigns in the UFC. Jon Menke did a real good job with cards. If you go and look back at the guys Jon Menke pulled from obscurity years ago before anybody knew who they were. Myles Jury? He found him from Michigan or somewhere. Josh Shockman, that guy fought in the UFC and stopped at our venue on the way.

I was the ring announcer and I helped with promotion and marketing. I spent a lot of time on the barstool at Hrabosky's.

I remember the first time watching the UFC and just being horrified. But the venom was in and that's what kept me coming back. It is so much different than it was back then but it's still equally as fun. MMA has become its own hybrid or it's own breed now. It's different. You can go 20 minutes in any direction and find a place that can get that for you. You've seen the progression. It's been fun to watch.

Being a baseball player we always listen, going to different places, to the public address announcers. I came across some who were really good and some who kinda sucked. I always remembered how it was for baseball players to come up and the public address announcer, take the New York Yankees' Bob Sheppard. That angelic voice. If that doesn't make the hair on the back of your neck stand up, I don't know what will.

I remember being just in the room with Berger and those guys and announcing them for fun. That opportunity came around and boom.

I don't even keep track anymore. It was every weekend for years. Tami and I have been all over the place. There was the IFC and Shark Fights and many others. From Sacramento to Detroit and then North Dakota to Florida.

It's a fun thing to do and I do love it. I get to work for a professional organization here. No disrespect, but I'm done with the bus leagues. I've reached a point now as far as the production goes, Shamrock FC is where it has to be. It can't be anywhere else. As long as they'll have me that's what I'll do.

Clean and seamless and get your ass in there and get out. That's how it has to be.

Jimmy Lennon Jr. As far as I'm concerned, that guy right there, if you're an aspiring ring announcer and even if you're not. If you just enjoy a good ring announcer, that guy is just first class. Love that guy. That's the standard.

When I first started training (BJJ) with what I was doing, I was trimming a lot of trees and I couldn't do both. I couldn't do trees all day and then go train like you need to. Now I have that opportunity and I can devote a little more time and that's what it takes. It takes a lot of hours to get there and I've finally gotten the opportunity to train like you should train.

There was a time not too long ago that I ballooned up to 265-pounds. I was drinking 30 beers a day and eating 10 pork steaks a week just not doing well and jiu-jitsu has turned back the clock for me a little bit. I'm healthier, I'm in better shape, I'm eating better, it's therapeutic.

I've been all over and I cringe every time I hear someone say; "You need to go here to be in the big show. I think, wow, really? We have a lot of guys here who are in or have been to the big show. We have some bad cats in this area and in the Midwest. You don't have to go very far. We're seeing handful of guys from here make it to the UFC. It's not just one rock star. They're getting there and they're staying there.

I look forward to coming here every day.

Tami and I have met some great kids though this sport. The Cella/Gwaltney fight? That was a masterpiece and we've gotten to know both of those guys pretty well. Luke Gwaltney was just a kid on our first show. I mean, it was comical. You can look at him now and know that's one cat you don't mess with. He didn't look like that seven years ago. He was a baby-faced kid and now he's a dad and a good dad.

Fat Lip MMA. We did a little thing that was produced really nice. We did it right out at Jefferson College. It turned out pretty good. We were on the air in Jefferson County and it was like one of those cable access shows on at 4-o'clock in the morning. It was fun. I got a ridiculed a little bit about that from someone who I won't mention his name, but we've fallen on our face a million times. That's what MMA is about. You fall on your face and get right back up.

Four years ago I became a minister and I have had the honor of marrying Mike Rogers, Jake Collier, Lucas Lopes and others. Between that and the gi, I'm a man of the cloth, literally.

Rob Donaker is one of the hardest working guys ever. Jesse pushes all the buttons and makes the whole thing go together but Donaker is the glue. That guy works his backside off and it reflects.

I met Patrick Smith around the time I was doing a show in Belleville and he hooked me up with Cage Champs, which I did for 5-6 years. Cage Champs wasn't high octane but I honed a lot of my skills at Cage Camps. Patrick spoke at my son's funeral and I will forever be grateful to that guy.

Who doesn't like MMA, man?