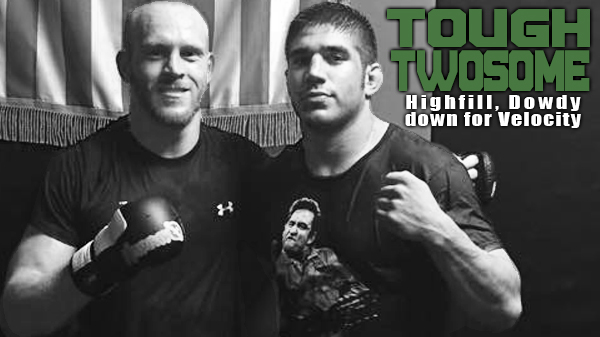 Tough Twosome: Highfill, Dowdy down for Velocity
When Shamrock Fighting Championships invades the Lumiere Casino Saturday the docket leans heavy on the welterweight division.

Of the five professional fights on the main card, four of them consist of combatants competing at 170-pounds.

Two talented young guns in that weight class return to the SFC cage in the shape of Aaron Highfill and Jordan Dowdy

Highfill will meet Stacy Bacon in Bacon's pro debut. Highfill is hoping to put his pro debut in the rear view mirror. In November, 2014, Highfill, who was among the region's top amateurs, lost to Bryant West in a mere five seconds when West landed a head kick and pounced for the finish.

"It sucked ass," Highfill said. "That was as bad of a pro debut as you could imagine. I thought (West) was more of a grappler so I had a low stance with a wide base. I thought he would come in for a shot and I would catch him but the opposite happened. He dropped me with a head kick. I tried shooting in on him but (the fight) was called. I was pretty bummed and it took a little bit to get over."

After the fight, Highfill jumped into a couple 80-hour work weeks that helped put the fight out of his mind. But that was then and this is now and Highfill is anxious to get his first pro 'W.'

"I have lots of motivation," he said. "I hadn't lost in two years. I have seen a lot of other guys take off and rack up some pro wins meanwhile I'm still sitting here on a loss."

Highfill trains four times a week at the War Room in Wood River and travels two times a week to the Hit Squad where he works on his boxing under Moses Flores.

Bacon lost to Dowdy in January in a SFC amateur title contest. Instead of butting heads, Dowdy and Highfill have teamed up to provide each other the best training partners possible.

"I have seen a few (Bacon) vids," Highfill said. "Jordan fought him in January where he won every round and he gave me a few tips. (Bacon) never quit. He's pretty game."

Dowdy, out of Granite City's CMMA, is about as well-rounded as it gets. He earned the SFC welterweight strap for his win over Bacon. On Saturday, he faces Bacon's teammate, Calvin Cunningham. Cunningham has fought three times for area promotion Cage Championships, including a 2008 loss to UFC welterweight Lance Benoist.

"I don't really know much about my opponent outside of the gym he trains at," Dowdy said. "I'm expecting a tough fight like I got out of his teammate. I am approaching this fight the same I always do with the goal of improving and getting to my best in every aspect and then taking whatever route presents itself to get my hand raised. With the turnover rate of scheduled opponents lately I believe you just have to become as skilled and well rounded as you can get. I have put myself through hell this camp so I'm ready for anything."

For an up-and-coming standout, finding the right fit for a pro debut can be an arduous task. For Dowdy, it was about freeing up the decision to his team.

"I didn't do anything," he said. "I just let my managers Steve Knogl and Craig Nasello handle it. You have to have people around you who you trust handling these things for you. We've had multiple opponents that were lined up and then changed, just the nature of things. Its frustrating juggling opponents like that. Obviously I don't think you would want to line up out the gates overmatched by skill and experience, you'd want someone of similar skill set and then gradually progress."

As Highfill mentioned, Dowdy gave him a peak of what Bacon brings to the table.

"I told him just a couple of things; things I didn't execute in the fight well that I know how to do that would have been effective," Dowdy said. "I felt terrible that fight, I was sick and I get frustrated just watching the video when I see some of the little things I just didn't do. In the end it was great experience against a tough opponent. I definitely learned a lot. I think Aaron is more than capable of beating Stacy without any sort of tips from me though."

Dowdy has no doubt that Highfill will return to his dominating ways come Saturday.

"Aaron is looking good. He is in shape and ready to roll," Dowdy said. "We have really been pushing each other this camp and I am excited to see it pay off. Working together has been fun; we both get different looks and a skilled and consistent training partner in our weight class. It's been very valuable. We all know anything can happen in a fight, and that is just what happened to him in his debut. In a way, I do not even really count it. It happened, but it doesn't take anything away from him to me, we've seen people at the highest level have that happen to them. I see how hard he works, and what he is capable of. Things people don't really get to see."

Dowdy is eager to add his name to the shark infested waters that is the St. Louis welterweight division but he doesn't look at as an all-out competition for supremacy.

"Personally, I'm hoping some of us can work together instead of knocking each other down locally," he said. "If we can make each other better and get that push at home base I believe it can help us get to (and be more successful) when we can get on the higher-level promotions. We have the opportunity to do that. What is the use of having a handful of close to .500 record welterweights locally? No one will move up that way. Selling tickets and having the ability to bring competition in to us or by traveling is what I would like to see more of for our local guys. I think St. Louis MMA in a way holds itself back by putting too many up and coming locals against each other at times. Potentially knocking each other down in turn just seems like a waste. Now some of that is unavoidable, and it will play out in some way. There is so much talent here right now that we could really put this area on the map if we do it right. That is just my opinion. Maybe I'm wrong. Everybody I see in the division locally at the pro level is talented, works hard, and brings a tough fight."

tickets to the event here: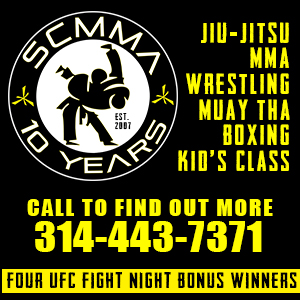 KCFA
| Sat, August 24th
Independence Event Center, Independence, MO
Shamrock FC: 322
| Fri, September 6th
River City Casino, St. Louis, MO
Sub 5
| Sat, September 21st
TBA
Nemesis Fighting Alliance
| Sat, October 5th
Casa Loma Ballroom, St. Louis, MO

Tweets about "KnuckleJunkies OR @knucklejunkies"