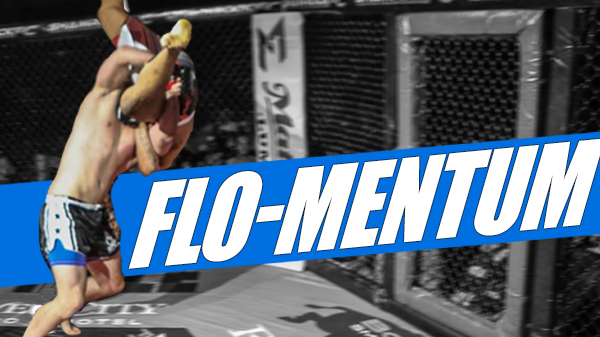 Ty Flores: Flo-Mentum
In his own no-nonsense, methodical approach, Ty Flores has momentum building his way.

Flores picked up his second win in two months and his third straight when over the weekend he defeated Marco Hutch at Legacy Fighting Alliance 42 in Branson.

It was Flores' first time fighting outside St. Louis as a pro. He ran his record to 5-2 by finishing the hometown fan favorite in the second round with a rear naked choke.

"I think my biggest strength overall is that I'm mentally tough," Flores said. "It was a little strange the few fans that were cheering for me as I walked out and it seemed like the whole entire place was cheering for him but at the end of the day it doesn't matter. It's just him and I in there."

Flores has rejuvenated his career. After turning pro in 2015, the middleweight jumped out to a 2-1 start. Then came a 20-month layoff and upon his return in June 2017 he was greeted with a dusting courtesy of Aaron Highfill, who KO'd Flores in 30 seconds at Shamrock FC 295.

But that was then, and this is now, and Flores is riding high thanks to a trio of submission victories.

"It feels like I picked up right where I left off before," he said. "I had the long layoff, which sucked. I had a loss right after that which was heartbreaking. It feels good to be back in the win column and with a little momentum on my side. I think I fight much better when I fight more often.

Flores appears to be better than ever. And this is coming off a knee surgery before the end of 2017.

"I got surgery in November and when I told them I wanted to fight in May, they thought I was crazy. Well, it's June and I've had two fights," Flores said. " Two weeks after my surgery, the second I was able to get that cast off, I was working out upper body three times a week, I was doing rehab for my knee three times a week, and I was just hammering things hard. I went on a month-long work trip and the physical therapist thought I was going to be slacking off and she was surprised at the things I was able to do."

A submission win over Jordan Dowdy is what kickstarted the three-fight win streak. In that bout, Flores was able to turn the tides of the fight and pick up a submission in the second round.

"I was real pissed with (my performance in) the Dowdy fight," Flores said. "He seems to be making a lot of excuses about it too, which irks me but I got the win. It's one of those things that didn't go as I planned. I got the win, I got the finish before the fight was halfway over."

Once focused, Flores is one of those you have to force to leave the gym. A self-described "maniac" who is known for overtraining. At Finney's MMA, Flores has bettered an already-sound wrestling game thanks to coach Ryan Sutton.

"Ryan is insanely strong and also insanely good at wrestling too," he said. "It's one of those things that if I can defend a takedown from Ryan, then I can defend a takedown from anybody."

Flores will also point his car west down I-44 to Cuba where UFC light heavyweight Jake Collier and his coach Patrick Smith has plenty of work waiting for him.

"I train down there two or three times a week," Flores said. "It's a bit of a hike, but I make it. I cross train at a lot of places. When I'm sparring Jake Collier, my footwork is its best because I do not want to get hit by one of those. I've had that happen before."

Flores and Collier, who is 11-4 with six fights in the UFC and a former RFA middleweight champ, have had a long history together on the come up.

"This is one of my favorite Jake Collier stories," Flores said "We were sparring, and if you've talked with anyone who's sparred with Jake, he hits pretty hard. I remember towards the end of the round he caught me with a body kick, and he hit me so hard I was out of breath and couldn't talk and right after he said, 'man, I like sparring with you because you don't bitch when I hit you hard.' It was funny because I couldn't actually respond to him because he hit me hard, so I just gave him the quick thumbs up and smiled."

When it comes to fighting in St. Louis, Flores feels as if there is little left to offer him.

"I don't think there are too many local fighters for me to fight and I don't look at that as a bad thing," he said. "I want to get that experience to fight out of town guys. I feel that a big mistake a lot of guys around here make is they fight only local guys, and then they fight some guy from Florida or from California, and they are out of their comfort zone. I don't just want to fight St. Louis guys. I want to get that experience. I want to fight the hometown guy and prove that I can make it."

But before that happens, maybe a trip inside the ropes could be on the horizon.

"I think next, I haven't really talked to anyone about it, but I would like to do a pro kickboxing bout," Flores said. "I'm more of a ground guy so I think it can help. It would give me the chance to showcase my stand up skills and make me feel more comfortable. That and maybe another fight at the end of this year."