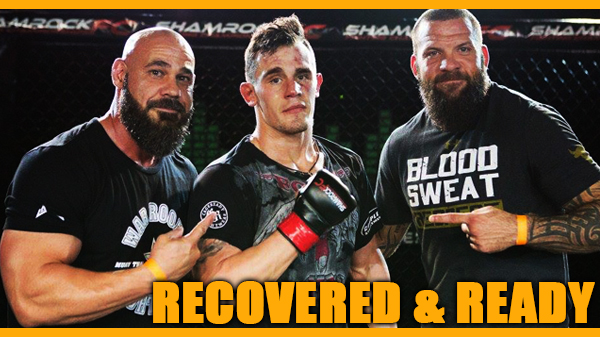 Ventimiglia: Recovered and Ready
Dustin Ventimiglia is fighting Bryan Barkau. The fact that statement is a reality is a marvel.

Ventimiglia vs. Barkau is the featured bout of the amateur undercard on Saturday's Shamrock FC 307 at the Ameristar Casino. The evening will celebrate SFC's 20 years in the MMA business, but it will also mark the end of a recovery process from an accident that nearly ended Ventimiglia's life.

It was June 1, 2017, and Ventimiglia was working a shift at Veolia Environmental Services.

"We incinerate anything you can't put in a landfill," Ventimiglia said.

An odd circumstance had put Ventimiglia face down and laying on top of him was the forklift he had been driving just seconds ago.

"I was just praying that they could get it off me," he said. "Once I calmed down, I started to cough up blood, and I knew that was not good, and I kinda started to freak out again."

The list of injuries sustained from the accident read like a stunt man's lifetime dossier of mishaps.

Ventimiglia had a collapsed lung, lacerations to the vein leading to his aorta as well as the vein leading to his femoral artery in the lower extremities. His liver was lacerated, and his spleen removed. He had a broken back, eight broken ribs, both of his femurs were broken with one leg having three separate breaks. He was put in a medically induced coma and was on a ventilator to breathe. To add an even more anguishing wrinkle to the story, his wife, Melissa, was eight weeks pregnant with their son.

Surrounded by family, friends and the staff at St. Louis University Hospital, Ventimiglia started to turn things around.

On June 29, he was discharged from the hospital, and by the end of August, first the wheelchair and then crutches eradicated. Ventimiglia showed the healing powers of a comic book character. By Thanksgiving, he was given the clearance to do some light rolling and drilling. Deeper into 2018, he started to pick up the pace, began to regain strength, endurance, and flexibility, and by the beginning of the summer, he was cleared to compete.

"I think a lot of credit goes to the way we eased our way back into it and took it slow," Ventimiglia said.

Before the accident, Ventimiglia was considered one to keep an eye on. The Ventimiglia name has been around St. Louis MMA circles since the early, early days. Dustin's uncle Scott was one of the pioneers of MMA, taking his first professional fight when Dustin was only 4 years old, along the way notching a 14-9 record with wins in three different decades. Scott, along with Brad Jones, co-founded one of the original local fight teams, The War Room in Wood River, IL, where Dustin still trains today.

So it would come to no surprise that when Dustin was old enough, the itch to compete in the cage came calling. A three-time state qualifier for Class 3 Belleville, Ventimiglia has rock solid wrestling to build off. After his senior season, when he placed third in the state and was 46-3, he spent a brief time at McKendree University. He left school, but Ventimiglia continued to workout and competition was put in the background until 2015. He had his first fight in October of that year, and the victory was unlike any he had before.

"There was a certain thrill with the win," he said. "It was a completely different experience. In wrestling, there may be three other matches going on but in fighting it is just you and your opponent."

Emotions will be running high on Saturday night when Ventimiglia makes that walk. He is ready to get his first fight back done and over with.

"Get in there, get the win, stay active and keep the ball rolling," the 25-year-old said.

But before he enters the Shamrock FC cage, basking under the lights at another opportunity at this life, don't blame him if he takes a second or two to appreciate the moment.

"I'm grateful to still be alive," Ventimiglia said. "I'm grateful to be a dad. My time on earth is not done with."

You can catch Shamrock FC 307 live at the Ameristar Casino and purchase the pay-per-view through FloCombat.com. For more information, visit shamrockfightingchampionships.com.