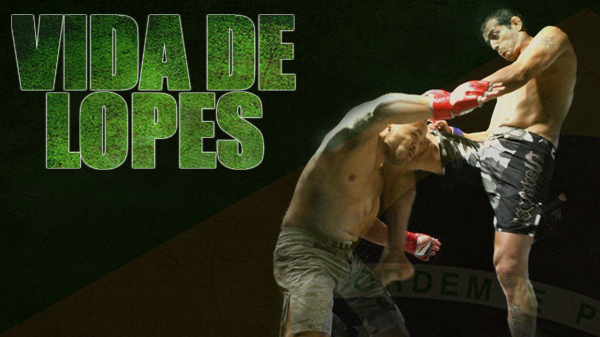 Vida De Lopes
Calling Lucas Lopes a veteran is like calling Cardinal fans enthusiastic or Kate Upton curvy. It fits but it does not paint the whole picture.

Lopes returns to a sold out Lumiere Casino on Saturday in the main event of Shamrock Fighting Championships: Force. Lopes has been around the game so long that his pro record of 29-18 (according to Sherdog) eclipses the total number of fights of the other fighters on the main card combined (25-19).

You don't rack up nearly 50 pro fights without some actual and metaphorical bumps and bruises along the way.

Lopes is 35 and has spent half of his life duking it out.

Home is now Granite City (where he moved six months ago from Webster Groves) that he shares with his four children, two sets of twins, a pair of boys and a pair of girls, both of which are under the age of four. It's close to his gym, the Hit Squad of O'Fallon where he teaches and motivates everyone from the clumsy kids to the legit prospects

"It's easier fighting in a cage sometimes," Lopes said.

Scan the Lopes fight docket. There are plenty of what-if's. You don't have nearly half-a-hundred fights without them. But say what you will, 17 years after his first foray into the sport Lopes has scraped together an existence through martial arts that can support, feed, house, and insure a family.

"It's all come from this sport and that's a huge thing," Lopes said. "Most, if they were in my situation, would have given up. I still find the time to train. I'll never become a UFC champion and I have reasons for that. My kids, my family, that's who I am right now."

The change in zip codes means little to him. Life is a steady cycle; home, work, train, kids. Wash, rinse and repeat.

Born and raised near Nepal, Brazil, Lopes was fortunate enough to be a product of a sound support system. His father worked in construction while his mom climbed up the chain at the National Bank. He was 18 when his father died of a cancer that came on quick. His mother became a powerful force in all their lives and she supported Lopes and his two older siblings, a brother and sister, two and one year older respectively.

The older Lopes' were much more studious and dedicated to education. While Lucas finished high school, the university life was never an option. He bounced from sport to sport in his youth. First was soccer, then volleyball, karate, and then jiu-jitsu.

"I started training in Brazilian Jiu-Jitsu in 1994 and have not stopped," said Lopes, who is a longtime black belt in the discipline.

A huge fan of Pride, he took his first fight in October of 1999 and found something he was good at. So good, he won his first nine fights over a three-year span. One of his signature wins came in an unanimous decision win over Thiago Alves on Sept. 28, 2001

"This made me believe in who I am," Lopes said. "We fought for almost 30 minutes, no gloves. It was a Vale Tudo match. I got seven stitches."

After a few years and a lifetime's worth of fights in Brazil, Lopes went to Coconut Creek, Florida to train with a close friend at American Top Team. That ATT connection led him to Columbia, MO of all places, to a nearby ATT gym near the University of Missouri. Lopes was brought in to teach Muay Thai and BJJ. Those were heady times in Columbia in that small gym. During Lopes' time in Columbia not only did the Lenon brothers begin to earn their stripes but a trio of Mizzou wrestlers named Tyron Woodley, Ben Askren, and Michael Chandler, walked through the door on a regular basis.

"Ben's family, especially his mother, were always helping out," Lopes said. "Whether it was a little bit of money, or food, she was a great help. I've always been happy at the success those guys had."

And he still kept racking up the fights. He fought for the first time in St. Louis in the fall of 2009. Then came appearances in Strikeforce and Shark Fights. One-offs in New Jersey, Atlanta, party towns in Texas, and across the border to Mexico. Locally, Lopes had his home turf on Shamrock Fighting Championships.

Lopes will close the show Saturday against Keith Smetana, a game welterweight from Chicago who could care less about Lopes' path and who he's fought and where's he been. Smetana needs the win and win money just as badly

"We both believe in ourselves which is good for the fans," Lopes said.

When someone looks back over close to 50 sanctioned fights, the countless training sessions, the time spent teaching, there's a pause and even a little chuckle.

"Everyday you look at how hard of a life it is," Lopes said. "But I'm going to be white belts forever. My mind is open. I'm always ready to learn and grow."