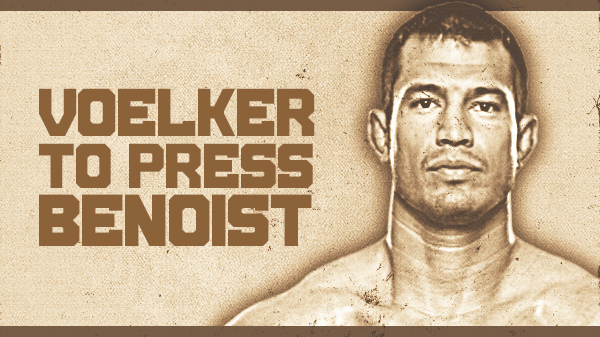 Voelker To Press Benoist
A sleeper pick for a fight night bonus at Saturday's UFC Fight Night involves two welterweights from Missouri.

St. Louis' Lance Benoist and Kansas City's Bobby Voelker, two fighters well-known for throwing down, will meet on the undercard at the event in Albuquerque, which will be televised live on Fox Sports One.

The 35 year old Voelker (24-11) has 10 years on Benoist (6-2) and 27 more pro fights.

Voelker made a name for himself in Strikeforce, tallying a 4-1 record. He made his UFC debut in March of 2013 in a unanimous decision loss to Patrick Cote. He was a last-minute replacement when he faced Robby Lawler (who is a lefty like Benoist) in June of 2013. Lawler was able to land a TKO victory following a powerful head kick in the second round. Voelker last fought in December of 2013 when he lost a unanimous decision to William Macario.

Benoist made his UFC debut in September, 2011 with a Fight of the Night performance in his unanimous decision victory over Matt Riddle. He returned to the Octagon in June of 2012 and fighting just weeks after his twin brother had passed away in a car accident, lost a split decision to Seth Baczynski. He then took a short-notice fight in September of 2012 and lost a decision to Sean Pierson. He was scheduled to fight Paulo Thiago in Brazil but a broken leg put him on the shelf. It was been nearly 18 months since Benoist, who has five finishes in his six wins, competed.

"Lance is a go-getter and a killer," Voelker said. "He's tough. He's well-rounded and has been off for awhile so I'm sure he has a lot of new tricks. I think we will put on a great show. He's hungry and starving to get after it."

When you look around the UFC welterweight landscape, you would hard-pressed to find many bigger and burlier than Voelker. Voelker plans to use his size and strength paired with his unrelenting go-ahead style to wear Benoist down physically and mentally.

"The key will be pressure. A lot of pressure," Voelker said. "He will break, eventually. I just have to keep pushing. If it takes to the 14-and-a-half minute, it's going to happen. We've been training hard and have done what we needed to do and now it's time to do it. Being able to do that is mindset. Training it, cutting the right angles and being able to counter. If he lands one, I have to land a couple."

Voelker trains mostly out of American Jujitsu and Glory MMA, and his schedule is chalked full. He is going to school in order to become a paramedic, while working full-time in construction.

"There are not enough hours in the day," he said. "Doing construction is nice and it pays well. I wanted to do a little something with my brain instead of using it as a punching bag. Now I'm able to beat people up and put them back together."

Voelker has lost three straight and Benoist has dropped two straight. The pair could be fighting for their UFC lives, which may lend to some fight night fireworks and possibly a sense of desperation late in the fight.

"Is there pressure? Yes and no," Voelker said. "I don't look at it as pressure. I just need to go and perform. In the last fight I thought about the pressure and I didn't stick to the game plan. I want to show what I'm capable of."

Voelker was a well-rounded athlete growing up in K.C. He played football, swam and even tried his hand at diving. Around 16-years-old, he started boxing and kickboxing and then when he neared his 20s, took a step into the MMA arena and has never looked back.

"It was something I enjoy and I loved and I continue to love it," Voelker said. "As long as I continue to get better and feel healthy I see no reason to stop."

Voelker made his pro debut in 2006 and the sport seems night and day difference between then and now.

"The skill level and the talent level are amazingly different," Voelker said. "It's about skill, technique and toughness. It's more of the chess match that everybody talks about."

Voelker does have a significant St. Louis connection. His management, under the eyes of Jesse Finney and Rob Donaker for Elite MMA Management, has been in his corner inside and outside the cage for a number of years.

"Those are great guys and guys I trust," Voelker said. "They're like brothers to me. I've known Jesse for 12-13 years. Our ties have gotten tighter."

Voelker and Benoist will be the third fight of the undercard. Benoist has never been finished in a fight; Voelker has only been stopped four times in his long career. Something is bound to give Saturday night in New Mexico. Whatever goes down, it won't be humdrum.

"We'll see who wants to steal the show," Voelker said.