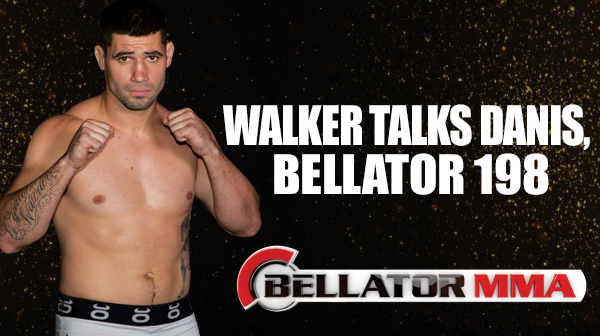 Walker Talks Danis, Bellator 198
The moment Kyle Walker and Dillon Danis agreed to fight the two had one thing in common. Neither knew who the other was.

Walker (2-4) will welcome Danis into the world of mixed martial arts on the main card of Saturday's Bellator 198 from the Allstate Arena in Rosemont, IL. The bout will air on the Paramount Network, and the two will meet at a catch-weight of 175-pounds.

Danis is best known as the grappling partner and confidant of UFC superstar Conor McGregor. The brash Danis is highly respected in the world of Brazilian Jiu-Jitsu. He is a black belt under grappling wizard Marcelo Garcia, and in 2014, he claimed the World No-Gi Championship, the Abu Dhabi World Pro Championship and the World Championships. By 2016, he was the Pan American No Gi Champion. In preparing for Saturday, Danis has bounced between SBG Ireland and gyms in his home base of New York, including training Muay Thai with Phil Nurse.

The 31-year-old Walker cut his teeth fighting on the St. Louis fight scene. As an amateur, he was apart of the SFL Amateur tournament and also competed for Rumble Time Promotions. As a pro, he fought for Shamrock FC, and it was his relationship with SFC President Jesse Finney that led to getting the match with Danis.

"Jesse called me, and he had seen on Facebook that I have been struggling a little with life in general," Walker said. "Bellator had called (Finney) and asked if any of his fighters were willing to take the (Danis) fight and all of Jesse's fighters were already committed. He asked me if I was interested in a fight. He didn't tell me who but once he said Bellator and that I would have a two-month fight, I said absolutely."

And once Walker found out it was Danis who he would meet, he had no frame of reference.

"I never heard of him," Walker said. "I've never been big into jiu-jitsu. That's a world I don't know a lot about and I'm not a big McGregor fan."

Walker has spent most of his fight camp in his home of Southern Illinois, training out of The Den in Carterville and Sabens Martial Arts in Carbondale. Alongside Walker for this camp has been SFC standout and close friend Garrett Gross.

Walker will be looking not only to shock the MMA world but also snap a three-fight losing skid.

"The last three have all been notice fights, and I have not been fighting my style as of late," Walker said. "I didn't plan a fight camp. It was basically cut weight and fight."

Walker is a tremendous athlete, having played D-IAA football at Southern Illinois University-Carbondale before going into MMA. He was a regular during the early days of ATT Evolution, the St. Louis gym owned and operated by UFC champion Tyron Woodley. Walker has turned to a tape of Woodley to help game-plan for Danis.

"I have watched Woodley vs. (Damien) Mia," Walker said.

Walker is no dummy. He knows footwork and keeping good distance is a key element in Saturday's fight.

"Even letting him tie up is a horrible idea," he said. "He's highly-skilled in not only jiu-jitsu but wrestling too. I can't let him get close to my hips at all."

But if -or when- the fight hits the mat, Walker has been prepping the best he can.

"If he takes me down, I'm not going to be terrified," he said. "We have been drilling good technique to get back to my feet. We plan to stay off the fence and pick good shots and make sure I connect with them."

Bellator 198 is headlined with the continuation of its heavyweight tournament as Frank Mir meets Fedor Emelianenko.