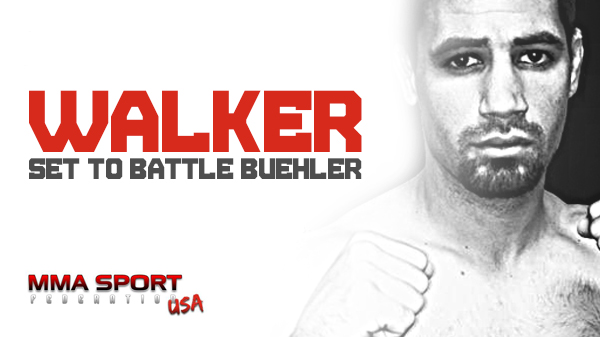 Walker set to battle Buehler
By
Debo
| Knuckle Junkies
Mixed martial arts and football seem to be on opposite ends of the sports spectrum. MMA is the ultimate individual sport with tremendous mental and physical challenges just to compete whereas football is the ultimate team sport which takes 11 men working together at the same time to execute plays.

The transition for welterweight Kyle "The Stun Gun" Walker (0-1) has been loaded with more similarities then differences. Walker is a former two-time all state football selection while playing at Herrin High School. He went on to be a stand-out player at SIU Carbondale. The 26 year old former football player from Staunton, Ill., will take on Jake Buehler (1-1) in the opening professional bout at the MMA Sport Federation USA Journey to the Top 2 Saturday at the St Louis Sports Center in Affton.

Sports and athletics can take you on a wild ride. You can always find aspects of each individual sport and transition those aspects from sport to sport. Getting in the cage and winning a MMA fight is one of the single most difficult accomplishments in individual sports. Walker enjoys the aggressive nature of MMA and the work ethic and training are similar to training to play a collision sport such as football.

He began his career training at Animal House MMA in Du Quoin under the direction of Nathan Marks. Walker spent time pondering his football future during his senior season at SIU. During that time he was encouraged to check out some martial arts classes by fellow MMA fighter and friend Garrett Gross, who was already training at Animal House MMA. Walker gravitated naturally once he decided to pursue MMA seriously full time in 2011.

"Garrett was training and taking some fights so once I started training I got thrown right into the cage myself and started my amateur career in 2011" Walker said. "I believe I have the ability to be good and I'm willing to work to improve and get better."

Walker made his professional debut in February against Chicago native Danny Morales Jr. (3-0) on the Hoosier Fight Club events card in Valparaiso, IN. Morales defeated Walker in the second round by a technical knockout. It was a great learning experience and Walker took mental notes on what he needed to do to improve. He would need to be more detailed in his training approach in order to be successful on the professional level and Walker had to become more advanced and skilled in his technical game. He quickly realized it would take more then just relying on his standup and striking game against professional welterweights.

"I have always worked on my striking plus working to be more technical with my wrestling and boxing" Walker said. "I'm more confident I took the time to drill and practice. Moving forward I knew it would be tough to win in the professional ranks without becoming a more technical fighter."

Walker now represents ATT Evolution in St Louis owned by Tyron Woodley. He has been training there for nearly six months after Animal House MMA closed its doors.

"Tyron is a great person and it has been a good few months preparing for this fight" Walker said. "I have been learning a lot with Tyron. When he is around he is constantly teaching and giving back."

Now his sights are set on Buehler, 23, who represents Hahn MMA in Festus. Buehler has two professional matches to date against two good opponents. He was defeated in his pro debut in a hard-fought match with Jake Trtanj when he lost by unanimous decision in February at the Ameristar Casino but left that fight with lots of confidence. Buehler evened his pro record in April on the Cage Fighting Events card. There he stopped Josh Stewart at 4:18 of the second round by TKO due to strikes for his first pro win.

Walker understands he will be in there with a confident opponent who is willing to strike and brawl. He feels he is better prepared for this fight. Walker doesn't mind a brawl himself and is certainly willing to stand and strike much like Buehler. Walker understands he needs a few more tricks to go along with his cage awareness to defeat Buehler.

"It has been a good camp and I feel like I'm ready to go and show people I have worked to improve. I feel confident in this camp and preparation for this fight has been very good" Walker said

MMA Sport Federation USA: Journey to the Top 2 will be held at the St Louis Sports Center on Saturday. Doors open at 4 pm. The amateur under card starts at 5 p.m. with the professional bouts scheduled to start at 7 pm. The main event features nine-time UFC vet, Luigi Fioravanti against undefeated Chris Heatherly for the MMA Sport Federation Welterweight US Title. Tickets can be purchased at the door and at cagetix.com.