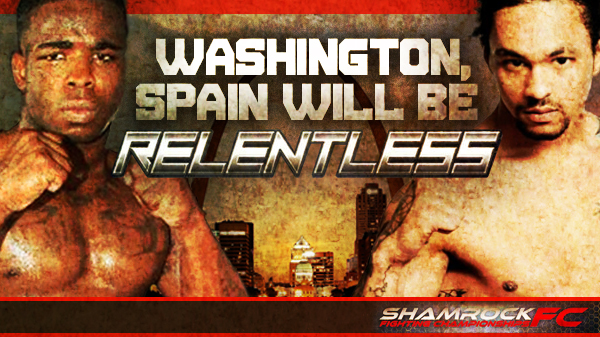 Washington, Spain will be Relentless
Robert Washington thinks he has spotted something when watching the past fights of Charon Spain.

"He quits a lot," Washington said. "He tends to just curdle up. If it goes three rounds, he'll quit before I will. I never quit."

The two veterans (who combined have 40 pro fights) will meet in a compelling co-main event at Saturday's Shamrock Fighting Championships: Relentless at the Lumiere Place Casino.

The 25-year-old Spain will be making the trek from the state of Washington but he is a familiar face to fans of St. Louis MMA. He has fought almost all of the top lightweights/featherweights in the region including: Zach Freeman, Eric Irvin, and Alex White. After losing to White in the fall of 2012, he won by a head kick knockout late in the third over Chanti Johnson. He followed that with a decision loss to a top West Coast prospect, Harrison Bevens, in February of this year. Spain's fight docket includes some notable names in Bobby Green, Sam Sicillia, and Michael Chiesa among others.

Spain admits that he hasn't invested much – if any- time in studying Washington's traits and tendencies. His reason for doing so is more mental than physical.

"Doing that can start to mind-fuck you," he said, "and you end up working on something that you don't need to work on."

Washington is built like a powder keg and Spain has dealt with fighters similar to Washington's skill set many times.

"The short, stocky guys tend to try and bully me," Spain said. "I plan to out-work him, stay busy, and stay dominant. I'm going to stick to my smart points and fight safe."

When he was younger, Spain was in and out of boxing before he took his first amateur fight in 2008.

"I got a knockout in 13 seconds and I felt like this is my sport," he said. "Then in my seventh fight, I got choked unconscious. But I learned from it and I knew right then that I was born and raised to be a fighter. I always wanted to be a pro athlete and I realized here's my chance."

Spain first crossed into the Show-Me state in May of 2012 at a Rumble Time event where he faced Freeman. The Altar Boy slapped on a rear naked choke and won in just over 90 seconds.

"I wasn't training like I should have," Spain said. "I was working a lot, I had just had my first baby and wasn't mentally focused."

He returned to Rumble Time two months later where he took on Irvin. Irvin ended up snaring Spain with an arm bar in the second round.

"I felt like I was winning that fight," Spain said. "I was tagging him and started off clean and then I got caught."

We had to remind Spain about the fight with White that happened under the Rumble Time banner in October of 2012. Spain failed to answer the bell to start the third round.

"That was the 'knee-to-the-nuts' fight," he said. "I forgot all about that fight."

Spain, who works full time cutting timber in the vast forests of his home state, is expecting his second child at the end of the month.

Washington is coming off back-to-back losses. He fell to Freeman in January of this year by decision in a donnybrook at Fight Hard. This summer he was KO'd by Luis Palomino in the first round at CFA 11, a loss that really stuck in his craw.

"I was so upset and it hurt so bad to get caught that early. I felt helpless," Washington said. "I was waiting. I was nervous. I could feel the tension in my arms. I could accept the defeat to Freeman because at least I fought."

The knockout loss, which happened on national television, made Washington take a step back and do some self-evaluating.

"I was putting too much pressure on myself and the people around me were putting too much pressure on me," he said. "I didn't need the extra stress. And I was over-studying guys, not punching first. When I won my first eight fights, I didn't care. I didn't worry about the other guy's striking. I was less strict. I'm at the point now where I feel like I did in the beginning."

Deep down Washington feels he has something to prove and is ready to showcase it come Saturday.

"I'm excited to show that I'm a relevant force," he said. "I'm a beast in training and I just need to transfer it over to the cage. Physically, my conditioning is there. I'm doing two-a-days and not even feeling it Mentally, I'm there. I just need to turn on the switch."

Saturday's bout will be at 155-pounds. Though he has flirted with the idea of dropping to featherweight, Washington feels his most comfortable, and dangerous, at lightweight, or even welterweight.

"I'm back to where I used to be," he said. "My biggest attribute is my strength. I've revised things a little and I'm back to my old self.

"This is going to be a good fight. From bell-to-bell I will be going at him."

Photos courtesy of Shamrock FC.