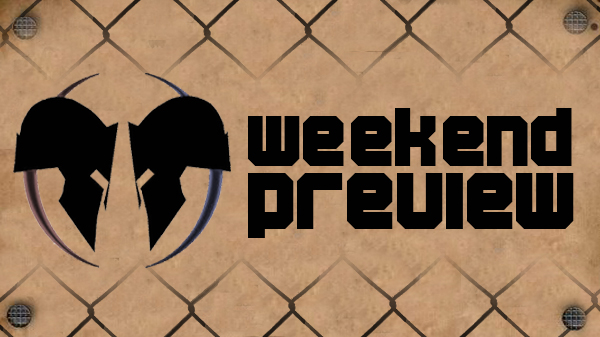 Weekend Preview: April 20th
Inner Circle returns tonight to the South Broadway Athletic Club for Proving Grounds 8. A card that has changed dramatically since it was originally announced. A rash of injuries have forced Tony Souders, Mike Green, Daniel Baynton, and others off the card. Eric and Ryan have since regrouped and put together 14 outstanding fights.

In the main event Bo Kuntz from the Southside Fight Club will be taking on Brandese Powell for the Interim 205 Championship. The winner will get a shot at Souders once he's fully recovered from his knee injury.

Also fighting for titles are Ronnie Farmer and Dan Bush. The two welterweights will battle to determine the new Inner Circle 170 champ. KJ Jones will be taking on scrappy John Davis from Battle Ground Promotions for the lightweight title. Davis has been spotted at St. Charles MMA recently sparring with UFC Welterweight Lance Benoist.

Jordan Collins and Ira Lukowski are set to do battle at 145. Recent Golden Gloves and Naga winner Kirk Huff is set to take on Ronny Harper from Brother's MMA. Harper is on a bit of a losing streak and looks to right the ship against Huff, which will be no easy task.

In a match that will certainly steal the show. Jesse Farmer will take on Jesse Gerringer in a K1 match. Both of these young fighters are top flight prospects in MMA, and this could be the first of many meetings between these two.


Main Card:
Bo Kuntz vs Brandese Powell - Interim 205 Title
Ronnie Farmer vs Dan Busch - 170 Title
KJ Jones vs John Davis - 155 Title
Ben Stuckey vs Josh McGrotty
Chris Seip vs Anthony Kuhn

Undercard:
Jordan Collins vs Ira Lukowski
Anthony Springman vs Monutelle Prater
Kirk Huff vs Ronny Harper
Chris Eveland vs Kevin Chatman
Zachary Scheerer vs Larry Turner
Kevin Simpson vs Charles Davey

K1 Matches:
Jesse Farmer vs Jesse Gerringer
Tidd Mikel vs Ronny Lewis
George Suedan vs Greg Schneider

Inner Circle Promotions: Proving Grounds 8
South Broadway Athletic Club - St. Louis, MO
Friday, April 20th - Doors Open at 7

Special thanks to Rob Francis for providing us with the updated fight card.