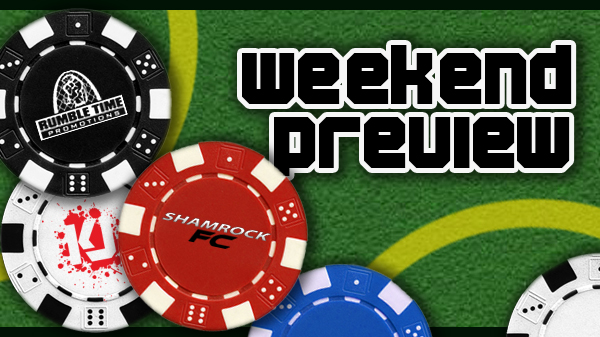 Weekend Preview: July 27th & 28th
By
Staff
| Knuckle Junkies
If you haven't made plans to visit one of St. Louis casinos this weekend, its not too late. With the UFC taking the weekend off, and two incredible nights of fights just minutes away, here's your chance to watch the most exciting sport in the world, live!

If you just can't make it out to one of the fights, we got you covered. We'll be at both of the local fights and will have full recaps, photos, and post-fight interviews.

---

The final pounds have been dropped and regained. All that is left is for ring announcer Dave Davis to bellow the start of tonight's Rumble Time Promotions Clash of the Warriors at Ameristar Casino.

After taking a look at the main event earlier in this week that features Zach Freeman against Aaron Derrow, we were able to track down Josh Sampo and Carson Gainey, who will square off in the co-main event, and others at yesterday's weigh-ins.




Gainey is making his first-ever fight appearance in St. Louis, making the seven-plus hour drive from Ohio, where he splits his time between Relson Gracie Jiu-Jitsu in Athens, Ohio and Fusion MMA in Cincinnati.

"Everybody been nice so far and I'm happy to be here," Gainey said.

Gainey, nicknamed 'Little Kimbo', will be looking to snap a two-fight losing streak against Sampo.

"I like my wrestling," Gainey said. "I've been working on my jiu-jitsu, my standup. Just trying to become well-rounded and getting better every day."

Gainey knows that Sampo can bring it from up top and on the ground.

"He's a tough kid and has fought some tough guys," Gainey said. "It's his home town. I know how that goes. He's a tough wrestler and he's been working on his Muay Thai."

Sampo had just one word to describe his weight cut.
"Shitty," he said.

And he had only a few more than that when it came to talking about Gainey and his preparation for the fight.

"He's a wrestler," Sampo said. "I train the same way for every fight."

In another pro fight, Charon Spain faces Destruction MMA's Eric Irvin, who had this to say about his bout with Spain.

Spain, who is based out of Washington, has lost seven of his last eight.

"I'm over confident and really ready for this fight," Spain said. "There's no pressure. I'm clear minded. I'm just going to let my level of competition do most of the work."

Spain trains at Yakima MMA under Rich Guerin.

"We have some high level wrestlers over there," Spain said. "I'm feeling really good on the ground and feeling really good about my standup."

Spain has picked the brain of teammate Evian Rodriguez, who lost to Irvin at the last Rumble Time show at the Ameristar.

"I've heard about (Irvin)," Spain said. "One of my friends fought him and he told me how he fought. But every fighter changes every fight."

Spain is making his second straight appearance on a Rumble Time card after losing to Freeman in the main event in May.

"(Promoter) Jim (Jenkins) has been a real good loyal guy," Spain said. "Rumble Time is a good promotion and has some high-level fighters."

Dan O'Conner made his pro debut in May under the Rumble Time banner. On Friday he faces Josh Epps, in what could be a donnybrook between two quality local fighters.

"(Epps) is real scrappy and a veteran with nine fights," O'Conner said. "He likes to throw, great jiu-jitsu. I think it will be a good fight everywhere it goes."

Aside from a family matter, training camp went smooth for O'Conner.

"We had a couple of hiccups with some family stuff," O'Conner said. "My cousin (Justin Lankford) is fighting on the card and his sister died during the training camp. That was the only problem we had."

For more on tonight's Clash of the Warriors, click here for more information, including the complete fight card.

Tickets still available at Tickets.com or the Ameristar Box Office.

Rumble Time MMA presents Clash of the Warriors
Friday - July 27th
Ameristar Casino - St. Charles, MO
Doors @ 6:30 - Fights @ 7:30

Photo courtesy of Sara Levin Photography.

---

Team Finney goes to battle on Saturday night at Lumiere Place Casino. Shamrock FC: Chaos features twelve pro and amateur MMA bouts in a fun, upscale environment. This event is completely sold out. While the main card is primarily comprised of coaches and fighters from Finney's MMA, when you step into the cage, there are no easy fights.

Please check out our event preview where we talk to four of the participants on Saturday's card.

Potentially one of the more explosive matches on the card is Kevin Engel and Danny Andrews. Andrews fights out of Southeast Missouri and has a record of 2-1 as a pro.

In pre-fight hype Engel, veteran of over 50 professional kickboxing and boxing matches had this to say on his opponent.

"There is no way he is going to try and stand with me, unless he's the dumbest person on earth," Engel said.

It would be no surprise to see this fight being quickly taken to the ground. All of Andrews' professional fights have ended with a submission. Engel's jiu-jitsu has looked good in his recent outings and work with Finney black belts Ezra Lennon and Lucas Lopes are quickly paying dividends.

Shamrock FC: Chaos
Saturday - July 28th
Lumiere Place Casino - St. Louis
Doors @ 6:30 - Fights @ 7:30

---

If you don't have tickets for Chaos, you can still get your MMA fix on Saturday night. Invicta FC returns for their second all-female fight card. The event is in Kansas City, but you can watch the entire card on the Invicta FC website.

Local standout Barb "Little Warrior" Honchak will be returning to the cage for the first time since relocating to Davenport, Iowa earlier in the year. Honchak, a Berger MMA product, is 5-2 as a professional and currently ranked #3 in the world in the flyweight division behind Tara LaRosa and Rosi Sexton.

Honchak will be taking on undefeated Bethany Marshall who fights out of Virginia. Three of Marshall's wins have come by way of submission. Honchak has two submission victories to her credit with the rest of her fights going to decision. This should make for an exciting fight.

Invicta FC
Saturday - July 28th
Memorial Hall, Kansas City, KS
Fights @ 6:00