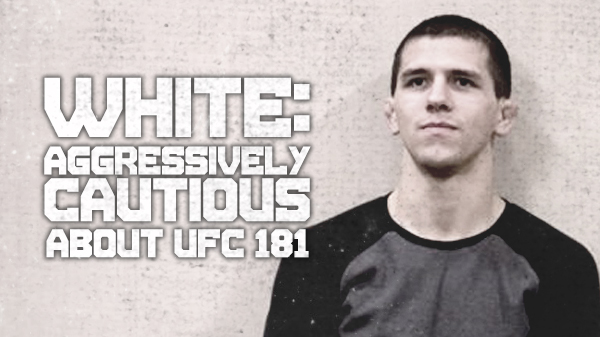 White: Aggressively cautious about UFC 181
"I got caught up in a pissing contest."

This is Alex White's explanation when asked what went wrong in his most recent UFC bout against Chute Box prospect Lucas Martins. Martins and White basically stood toe-to-toe for two and a half rounds delivering thunderous blows and devastating combinations with little regard for self-preservation. According to UFC's statisticians, every single strike thrown from both fighters that night was recorded as a significant strike. No pitter-patter, no fluff, every blow landed had malicious intent

Midway through the third and final stanza, for the first time in all of his endeavors in mixed martial arts, White took a shot that introduced him to the canvas and the bitter taste of defeat.

White went his entire amateur career and into double digits in the win column as a pro before suffering his first loss. As UFC legend Matt Hughes said during the filming of season 2 of The Ultimate Fighter, "If you never lose, you're not fighting the right people." It appears that White met the right person July 16th in Atlantic City.

White returns to the UFC cage on Saturday when he faces Clay Collard at UFC 181, one of the biggest shows of the year for the promotion.

So, what happens now? Standing 1-1 in a four fight contract, does White continue his headstrong approach to fighting? Does he become hesitant to engage in fear of being knocked out again? Does he implement his underrated ground game? Does he play it safe and try to squeak out decision wins to keep a good record intact, in hopes of a contract extension?

Only time will tell, but White is more than ready to prove himself.

"If I ever got a rematch, I think things would be different. It would still be a tough fight, but I leaned some things in that fight. I think the outcome would be different," said White.

White knows that he just needs to get back to basics and use more of his skill-set.

"I'm going to stop dropping my hands," he said. "I think that's the biggest thing. I'm going to work my jab more and throw straighter punches. I need to clinch and dirty box more. I'm going to be more cautious and keep my hands up, but I'm still gonna get in there."

Since Knuckle Junkies last spoke with White, his life has gone through some pretty substantial changes. He's still a humble, quiet country boy. You will still find him in the woods hunting a big buck. He's still a loving husband and committed father to an adorable little girl. But, for the first time in his adult life, White has been afforded the opportunity to train full time. Through White's entire grind to the UFC, he has carried a full-time job. Now, thanks to fight purses, sponsors, and a hefty Fight of the Night bonus for a KO win in his UFC debut, White can now be in the gym full time. This should prove to be a positive change for White in both his professional and personal lives.

"The best part is that I get to see my family so much more," White said. "It's been awesome. I have time to see them more, I get to be in the gym more, and I have more time to travel to other gyms to train."

White has been getting in rounds with his usual training partners Austin Knight and local pro standout Eric Irvin. Seeing the recent recognition for St. Louis area MMA, Irvin could be just a couple wins away from getting the call to the big show. Knight, recently dealing with a few nagging injuries, is likely to make his return to the cage in the coming months. So, while surrounded by good help, White and long-time coach Joe Worden see the benefits of getting in some rounds at other gyms in the area.

"It's good to get as many looks as I can," White said.
"When you train with the same guys every day, you start to learn a lot about each other. But, going to other gyms to train, I get to see guys I'm not used to. The more things I see, the more prepared I am."

White has traveled from his base camp of Destruction MMA in Farmington to train with Mike Rogers and his stable of guys at St. Charles MMA and also across the state to Kansas City to work with James Krause and his gang at Glory MMA. More plans are scheduled to head to the St. Louis area this week to get rounds in with the crew at Berger's/FitorFight.

The 10-1 White will square off against Collard (13-5), who hails from Price, Utah. Collard had been on a two year, five fight unbeaten streak before his August 23rd third round TKO loss to Hawaiian phenom Max Holloway. Both White's and Collard's recent losses came on short notice fights. They will both be stepping into the cage having completed full camps this fight could prove to be another shot at a fight bonus for White considering the styles that are being brought to the table. Both guys like to bang and are known finishers, with nearly twenty stoppages on their combined records.

White has a lot of people in his support system that have helped along the way. His wife Ashley is very supportive of his career and helps keep him in line with his diet and weight cuts. His coach's wife and former boss, Erica Worden, plays the role of secretary and does it all free of charge. She has also offered to reward White for sticking to his diet through the Thanksgiving holiday by preparing him a Thanksgiving feast upon his return home.

With all of these factors, his natural drive, and coming off of his first loss, White is more motivated than he as ever been to bring a win back home. The fire has been lit, and he is ready to show the world when he walks in to Mandalay Bay this Saturday, just what he can do.

Alex White faces off against Clay Collard this Saturday, December 6th at Mandalay Bay in Las Vegas. The fight will be available for Fight Pass subscribers and will precede the prelims and PPV portions of the card. For more details on how to watch the fight, go to www.ufc.com.

Photo courtesy of Sara Levin Photography.