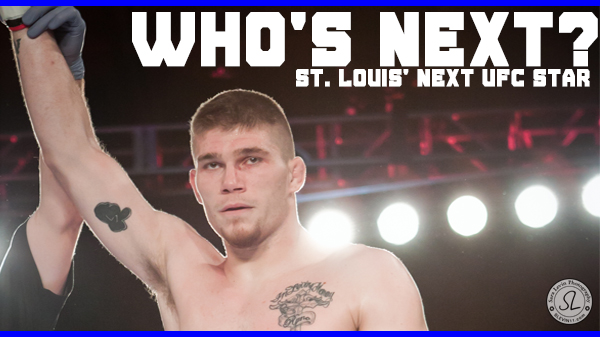 Who's Next?
With the recent signing of Chris Heatherly to the UFC, it has left us wondering, who's next?

At one point last year, there were dark clouds over St. Louis with only two local athletes under contract with Zuffa, whereas our cross-state neighbors in Kansas City had six including Tim Elliot, Zach Cummings, James Krause, Jason High, Bobby Voelker, and Anthony Gutierrez.

Fast forward 16 months, and St. Louis now claims six UFC athletes as its own including welterweight contender Tyron Woodley, flyweight dynamos Alp Ozkilic and Josh Sampo, Lance Benoist and Alex White.

Who'll be the next local pro to get the coveted UFC contract? Here's a list of local fighters we believe to be knocking on the door of the Ultimate Fighting Championship.

Jake Collier - The "Prototype" is the odds on favorite to be the area's next UFC signing. With an upcoming high-profile title fight in his RFA debut, Collier is one win away from getting "the call." At 7-1, Collier has an impressive record highlighted by a decision win over Cully Butterfield. Collier started to get regional buzz when he was signed by RFA based on a recommendation of training partner Andrew Sanchez. With just one decision to his record, all of his victories have come by stoppage, something the UFC definitely takes notice of when evaluating new talent. Resume builders: Cully Butterfield, Quartus Stitt.

Andrew Sanchez - Despite a loss to Kevin Casey in the main event of RFA 15, Sanchez looks to have the skills needed to compete at the highest level: a strong wrestling pedigree and high level jiu-jitsu. At 5-2, his only losses are to fighters with house hold names in Casey and Dustin Jacoby. Already on the UFC's radar, Sanchez is realistically two wins away from getting that contract. He will need to regroup and come out strong in his next fight, but that shouldn't be a problem for the McKendree grad and NAIA National champ. Resume builders: Miles Marshall (RFA), Todd Meredith (RFA).

Zach Freeman - The "Altar Boy" stands at 7-1 with his lone loss coming at the hands of Jake Lindsey at Titan FC 25. Lindsey was immediately scooped up by the UFC following the victory over Freeman. It's been 14 months since Freeman has competed, and he needs a strong showing against Mike Butnik to build momentum. With two more wins in a row, Freeman should be at the top of the list of unsigned talent. Resume builders: Aaron Derrow, Robert Washington.

Adam Cella - Having brushed with UFC stardom as the member of the Ultimate Fighter and featured predominantly in several commercials aired during the season, Cella has higher profile that most of the fighters on this list. A hand injury, and a loss to Lucas Gwaltney in March has derailed the comeback hopes temporarily, but if Cella is able to get one to two fights in this calendar year, he should be right back on the verge of getting picked up by the UFC. Cella is realistically three wins away from returning to a thin UFC welterweight division. Resume builders: Ultimate Fighter Season 17 , Justin DeMoney

Eric Irvin - Farmington's Irvin is a gritty workhorse of a fighter who has grinded out wins in four of his last five. Not afraid to take on big challengers, Irvin took on seasoned veteran Jeremiah Riggs in his pro debut, and later traded leather with Charlie Brenneman who was fresh from getting released from the UFC. If Irvin can get to 10 wins, he should be starting to get some national attention. Resume builders: Jeremiah Rigs, Adam Ward, Tyler Combs

Rob Washington - The "Beast" has fought in several of the large regional promotions including MFC, CFA, and very soon Titan FC as well as several headlining fights here locally, most notably his wins for Shamrock FC against Jeremy Castro and Charron Spain, and his match of the year winner against Zach Freeman at Fight Hard. While he's dropped a few fights in his 25 fights, he's seen it all, and done it all, and if he can win at least three more fights and improve to 20-8, he should be showing up on Joe Silva's radar. Resume builders: Jeremy Castro, Lucas Gwaltney

Did we miss someone on the list? We'd love to hear your thoughts in the comment section.