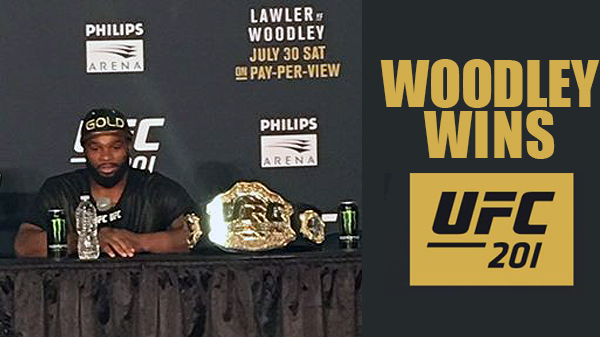 Woodley Wins at UFC 201
Tyron Woodley is now the UFC Welterweight champion. This much we know.

After his stunning knockout victory over Robbie Lawler Saturday night at UFC 201 in Atlanta, there were plenty of questions to be answered.

The first question that was posed to Lawler at the post-fight press conference was did he feel he deserved a rematch?

"Deserve and getting are two different things," Lawler said. "But yeah, I feel I deserve something. We will have to see if I get it."

Lawler said while he feels he deserves a rematch, he will be taking some time to spend with his family and then reassess things.

While a rematch with Lawler is always a potential option for UFC, Woodley is intent on being a fighting champion, but is looking for big money fights.

Stephen Thompson was thought to be in line for a title shot against Lawler, if he were to get past Woodley. With that not happening, many thought he would be in line for Woodley's first defense.

T-Wood made sure to let it be known on what he thinks about facing Thompson.

"Stephen Thompson said he wanted to fight Robbie Lawler," Woodley said. "He said it was a better matchup, the fans would be excited to watch it. He'll get an opportunity to have that fight."

So, who does Woodley want to face?

The new champion said he would welcome fights with Nick Diaz, who will be coming off suspension this week, or Georges St. Pierre.

"I think Nick Diaz comes off suspension in two days," Woodley said. "I would love to fight him on 202. I know his brother is fighting. I think he deserves it. He's a guy that's been around the sport. He's put a lot of butts in the seats, sold a lot of pay-per-views. So why not put him on a big card with Conor and his brother? I know he's training already."

As for GSP, he is one of the biggest draws in UFC history, but is effectively retired. While he has hinted at a comeback, he has not fought since 2014.

Woodley said he would take a fight with GSP at UFC 205 in New York.

"I want to make some money now," Woodley said. "I'm gonna be honest. Goal one is to be the welterweight champion of the world, but I put in too much time. I'm away from my family way too often. This is a sport where we can make cash now, instead of just saying this person deserves it, he worked his way through the ranks."

Regardless of who his first title defense is against, it's clear that Woodley is ready to be a fighting champion.

From a current UFC fan perspective, Thompson or a Lawler rematch would make the most sense, but from a money making perspective, a fight with GSP at Madison Square Garden would be a huge pay day for both fighters.
As someone who has seen Woodley rise through the ranks since his days at Mizzou, it would be cool to see him in a showdown against one of the all-time greats in GSP.

A bout with Diaz would also be interesting. Say what you want about the Diaz brothers, they always bring a tough and interesting fight to the table.

However, the fight that would pose the most danger to Woodley's title run would be a fight against Thompson. The Wonder Boy is at the top of his game right now.

So, all in all, there are plenty of options out there for Woodley. The UFC has kind of set a precedent of letting fighters pick their fights, ala Conor McGregor/Nate Diaz 2.

A Lawler rematch would also be a fight I'd like to see. If that could be set up for 205 in NYC, I'd be all for it. Could T-Wood duplicate his performance or would Lawler, once again, have another comeback story in him?

"Robbie Lawler is a guy that I admire," Woodley said. "No other guy in mixed martial arts has had a comeback story like Robbie. I technically just beat the best welterweight in the world. I beat a guy in his prime. He wasn't on the end of his career, he was at the top of his game."