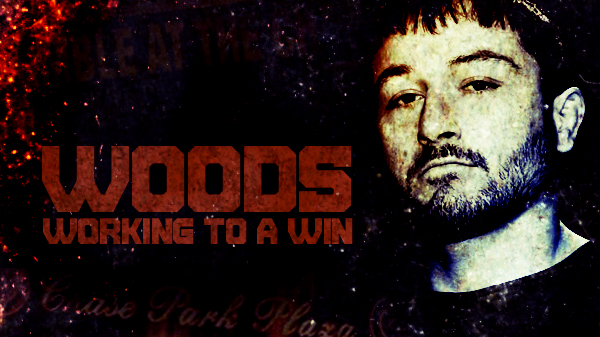 Woods Working to a Win
While Sal Woods won't exactly be in chill mode, expect a more calm and collected fighter come Saturday.

"You don't have to win in the first five seconds," Woods said.

Woods, out of Granit City's CMMA Fighting Systems will face Vincent Eazelle in the co-main event of Rumble at the Chase.

"He's a scrappy dude," Woods said. "He fights like I like to fight."

Rumble at the Chase will be the first of four trips by Rumble Time Promotions to the storied Chase Park Plaza Hotel in the Central West End.

Woods is 2-2 in his last four trips to the cage. He is coming off a loss in June to St. Louis standout Jimmy Donahue.

Donahue took Woods, a decorated wrestler, to the mat after landing a solid right at a fight back in June. Woods did a good job of locking Donahue down with his guard game and eventually got side control, but Donahue transitioned from one submission attempt to another before putting on a triangle to get the victory.

"We came in feeling good," CMMA coach Steve Knogl said. "Sal got clipped but then recovered on the ground. Then got caught in a choke we couldn't get out off. It was pretty disappointing."

The loss to Donahue was Woods' first trip to 155-pounds. He felt so recharged and reinvented at lightweight that he threw caution into the wind.

"I rushed into things," Woods said. "It felt great, looked great and just wanted to bust out of the box and through this guy."

A vocal and proud member of the Mike Dolce army, Woods feels more confident about the cut this time around.

"I'm loving it," Woods said. "I did an abbreviated version this time. I'm coming down from 10-pounds heavier than last at 185 and I'm right on. The exact same."

Woods craved a rematch and Donahue, who is always game for a big fight, was willing and ready and training to do the deal at the Chase before an injury forced him off the card.

Eazelle, 6-1, hasn't fought since June. Local fans might remember him from his trips to the cage under the Shamrock Fighting Championships banner and for Fight Hard.

"They're similar," Knogl said of Eazelle and Donahue. "It's not like we have to switch gears 100-percent."

Both Woods and Eazelle can finish from anywhere and neither are afraid to let it loose which means the fight could be quick and stunning or grueling and epic, the latter of which is Woods has a reputation of getting in.

"I hope it's not a quick one," Knogl said. "We would like to test his tank at 155. We hope it's a classic Sal Woods war."

Woods and Knogl have been joined at the hip for the bulk of his career when Woods got into mixed martial arts following college wrestling stops at McKendree and Lincoln. Woods dove into MMA headfirst. He bypassed an amateur career and made his cage debut as a professional in November of 2005. He started his career 2-6 before tussling with a who's-who of St. Louis' most well-known mixed martial artists. Though all fresh in their careers UFC's Tyron Woodley, Bellator lightweight Michael Chandler, and UFC vet's Pat Healy and Steve Berger. These plus three other fights were all part of his docket in a 14 month span.

Woods will have more teammate support than usual on the card, something Knogl is hoping to do more of in 2014.

CMMA flyweight Wally Eiskant will take on Steve Darbee. Dylan Dalton makes his MMA debut against Dustin Hiesse. Jordan Dowdy steps in for an injured Time Mantle and will face Mark Kirkland

"We have some interesting fights," Knogl said. "None of them are walkovers. We would like to walk away with some wins and dazzle some people. They're all in good shape and gym is focused. It's time to put the power to the pavement."