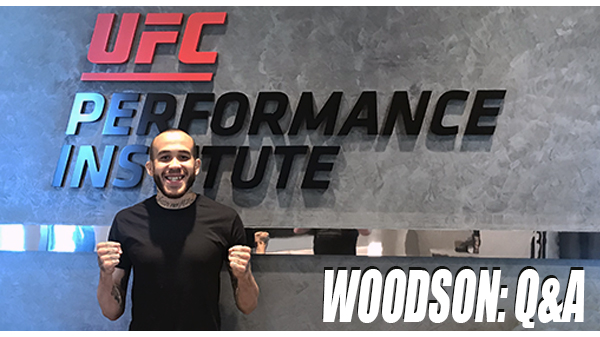 Woodson Contender Series: Q&A
It's the call every fighter dreams of. One minute you're playing video games, and the next you're scheduled to fight for the UFC, the Superbowl of Mixed Martial Arts.

That's exactly what happened for Wolves Den featherweight Sean Woodson early last week when his manager rang him up.

Woodson (5-0) will face Terrance McKinney (7-1) for a chant at a UFC contract on July 23 as part of the UFC Contender Series on ESPN+. Woodson steps in for Adli Edwards, who suffered an injury and was forced to pull out of the scheduled contest.

McKinney, a standout collegiate wrestler, trains out of SikJitsu in Spokane, Washington, the same gym as Michael Chiesa and Julianna Pena. Only one of McKinney's seven victories came after the first round. He has six of seven first-round finishes, including one fight where he finished his opponent in seven seconds. His lone loss came due to a doctor's stoppage after McKinney broke his leg in a fight he was winning.

Our special correspondent Jordan Dowdy has been with Woodson since the pair traveled to Las Vegas last Wednesday to start the weight cut in preparation for the fight and assisted us with this exclusive interview.

---

First, tell us how the opportunity to get this fight came about?
I was playing my Xbox and my phone was on the charger. I happened to look over and saw I had a bunch of missed calls from my manager. I knew it was something serious so I hit him up. He said there was a short noticed opportunity for me on the Contender Series and that was exactly what I been waiting for so I jumped on it.

What was your initial reaction? Was there any hesitation?
I wouldn't call it hesitation. I was a little worried about where my weight was at the time, but no hesitation. The moment I got this call and knew what it was I knew I had to take it. I couldn't pass up on it.

Your opponent, Terrance McKinney, is a decorated wrestler. What are your thoughts on the match-up?
He's definitely the toughest opponent I've had to date, but nothing I'm not ready for. I train year-round to fight the best guys in the world.

Do you see this as an opportunity to make up for missing The Ultimate Fighter? Or is this a different challenge all on its own?
I do see this as an opportunity to make up for not making it on TUF when I went out there. Because I didn't get a chance to perform. I only got to do a couple of interviews and that was it. This fight I am guaranteed to go out there and show my skill set. I'm excited for that.

2018 was a bit of down year with the injuries, and trouble finding opponents. With this being only the second fight in as many years, how much of a relief is it to have a definite bout lined up.
To be honest, it's just a relief to finally have my shot with the UFC.

You were set to fight in August for Nemesis. Is there zero chance of that happening win-or-lose?
The only thing I'm focused on right now is Tuesday.

Any shout outs or anything we forgot to bring up?
I want to give shout outs to all my sponsors and people that believe in me. Matt Owen he handles all my strength and conditioning. SubZero Wellness and Megan, she handles all my recovery needs. Aaron Clark with Boy Aaron Photography. He's been one of my sponsors since day one. Nemesis Fighting Alliance, Brad and Marlene, they've sponsored me on this trip. The Wolves Den, I want to thank all my team and coaches Mop, Drew and JP. Jake and Katie my chiropractic and nutritionist who've been with me since the beginning as well. Also, there's an anonymous gym owner who sponsored me, I want to thank him, that means the world to me. Greg Parris, Mission 22 Medical, and James Hoyt with Hoyt Hauling. Thank you all so much.