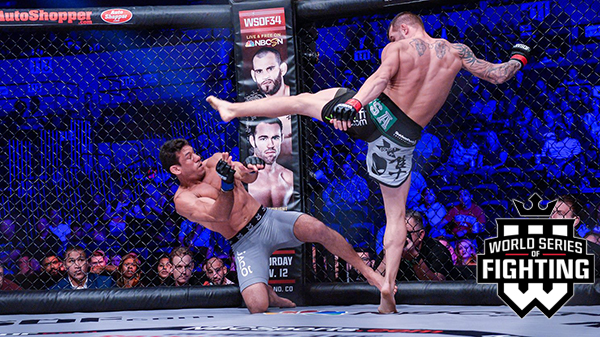 World Series of Fighting 33 - Recap
Municipal Auditorium provided a big back drop for World Series of Fighting 33. With the lose of the main event Gaethje vs Dugulubgov the rest of the card needed to bring it. The night showcased skills from across the country with fighters from New York to Arizona and around the world from Russia, Brazil, and Morocco. The first fight of the night was an energetic victory by submission specialist Bryce Mitchell. Certainly a name to watch.

The Main Event for the evening between David Branch and BJJ World Champ Vinny Magalhaes turned into a boxing match.

Branch was well timed in his striking. The few times they went to the mat Magalhaes was the better, but smartly Branch avoided the ground as much as possible. Branch rocked Magalhaes early in the second but when he was unable to finish his opponent. Sensing the opportunity had passed, Branch quickly backed off bringing the fight back to the feet where he was dominating.

In the third, fourth and fifth rounds Branch was a measured and crisp striker avoiding most of the wild strikes by Magalhaes. Magalhaes has to be admired for the punishment he endured as Branch cruised to the unanimous victory winning every round.

After the match Magalhaes, the UFC-vet and former Ultimate Fighter contestant, announced his retirement from mixed martial arts.

Hailing from Kansas City gave Jason High a big boost from the hometown crowd. However, they couldn't lift the "KC Bandit" past the Team Renzo Gracie veteran Joao Zeferino. High was most effective when initiating connecting often. High couldn't avoid the takedowns and Zeferino controlled the battle on the mat. Zeferino seemed to be ahead going to the third round and High needed a KO. High staggered Zeferino momentary but Zeferino was able to recover and clipped High with his own shot. High went to the mat and Zeferino pounced and finished the fight quickly with hammer fists at 0:51 of the 3rd.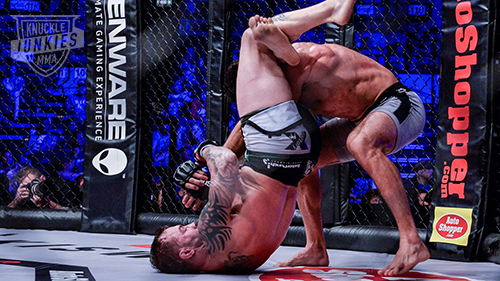 Brian Foster fought from his back most of the round before grabbing an arm during a scramble to end the fight with a triangle choke while torqueing an arm bar. Foster's opponent Luiz Firmino was visibly upset voicing his displeasure to the referee and getting in the face of Foster before storming out of the decagon prior to the final decision announcement. Firmio later claimed that it was an illegal kick in the final scramble that lead to the triangle choke.

Abubakar Nurmagomedov vs John Howard: Nurmagomedov was cautious until he found the range and timing for Howard, then he began to pick Howard apart on the feet. Nurmagomedov got the better of Howard in the stand-up and on the mat. Howard tried to rally in the third but fell short. Nurmagomedov wins by unanimous decision.

In a battle of two ill-tempered heavyweights, Shawn Jordan got a slight advantage in the exchanges early and jumped on a staggered Ashley Gooch. Roughing him up with ground and pound until finally working to a dominate position where he was able to take Gooch's back. Jordan pounded out the TKO victory at 4:40 in the 1st.

Chris Gutierrez's jujitsu on the ground cancelled out the wrestling of Timur Valiev. The difference in the fight were the well-timed takedowns of Valiev. After three gritty rounds, Valiev takes the victory with a unanimous decision

In preliminary action, streamed on WSOF.com: Bekbulat Magomedov picked his spots, scoring with good combinations. Although he wasn't able to finish Jesse Brock, who stood tough, Magomedov earned the unanimous decision controlling the fight throughout.

Abu Azaitar wins with a unanimous decision over Mike Arrant, winning all three rounds by getting the better in the striking and wrestling exchanges.

Popular local Bobby Cooper was holding his own on the feet but Magomed Magomedkerimov was much better on the ground. After three close rounds, Magomedkerimov wins in a split-decision where two judges awarded Magomedkerimov all 3 rounds 30-27, while Cooper swayed one judge to a score of 29-28 in his favor.

Bryce Mitchell aggressively pursued and finished his takedowns in his match-up with Brandon Phillips. Showing a good ground game as he transitioned between full mount, rear choke, arm bars and head triangles. Phillips was able to defend and escape but could never mount his own attack. Mitchell continued the aggression into the second winning with a triangle choke at 3:14. Mitchell's perfect record improves to 7-0.

Full results:

Branch def. Magalhaes unanimous decision
Zeferino def. High TKO 0:51 3rd
Foster def. Firmino submission due to triangle choke end of 1st
Nurmagomedov def. Howard unanimous decision
Jordan def. Gooch TKO 4:40 1st
Valiev def. Gutierrez unanimous decision
Magomedov def Brock unanimous decision
Abu Azaitar def. Mike Arrant unanimous decision
Magomed Magomedkerimov def. Bobby Cooper split decision
Bryce Mitchell def. Brandon Phillips triangle choke 3:14 2nd

Photos courtesy of Jerry Chavez Photography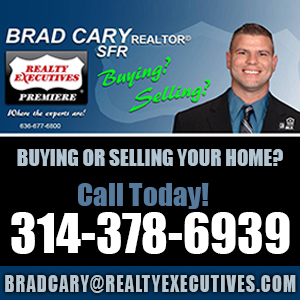 Shamrock FC 318
| Fri, May 10th
River City Casino, St. Louis, MO
Shamrock FC 319
| Sat, June 8th
Ameristar Casino, Kansas City, MO
Nemesis Fighting Alliance
| Sat, June 22nd
Casa Loma Ballroom, St. Louis, MO
Shamrock FC 320
| Sat, July 13th
Ameristar Casino, St. Louis, MO

Tweets about "KnuckleJunkies OR @knucklejunkies"