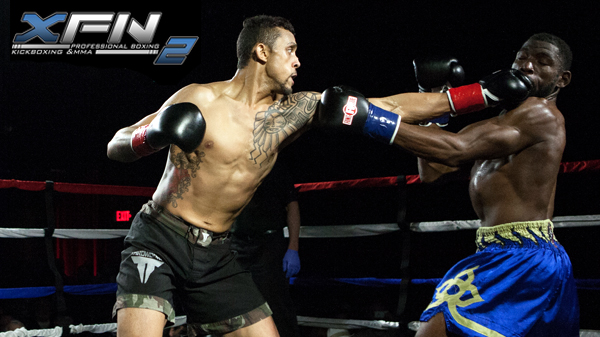 Xtreme Fight Night 2 - Recap
On Saturday evening the first of three Shamrock FC events in 28 days took place in the form of Xtreme Fight Night 2, held at the Lumiere Casino. The Xtreme Fight Night events showcase a mixture of amateur and professional Kickboxing, MMA, or Boxing bouts.

Coming off of the success of the last show, the brand brought another very entertaining show to downtown St. Louis.

After some very entertaining back and forth leading up to their fight, the bout between Adam Meredith and Darryl Cobb was even more anticipated come the night of the event. The tall and long Meredith came in looking to gain some good experience and test himself against game veteran in Cobb.

The feature bout started with both competitors trading kicks and trying to get a good feel for their opponent, there was definitely a mutual respect shown between the two. Meredith looked light on his feet and was showing good movement and footwork. In a round that didn't see many lengthy combos Meredith did land a solid knee to the body of Cobb toward the end to win the round.

Cobb's most effective strikes were rear kicks to the lead leg of Meredith as he continued to land those throughout the fight trying to wear down his movement. The third round provided entertaining back and forth exchanges which saw both Meredith and Cobb looking to land power shots. In the end, Adam Meredith took home the unanimous decision win.

In a professional boxing match T.J. Casey worked off his jab to keep a distance from Kirk Huff and was also selectively closing to land to the hooks body. Huff looked to keep protected on his way in and land effectively. Early on the height and reach advantage of Casey were apparent, and his use of it kept him landing the more effective strikes and leading the dance.

While the second saw Huff starting to have a bit more success landing shots of his own. Casey still did a good job overall of keeping his advantageous distance. In the third and fourth rounds Huff came out looking to turn the fight into a brawl, trying to wear down Casey and will himself to a win. After four rounds had passed with some entertaining back and forth, T.J. Casey won a decision.

In a bout that turned into a what can be viewed as a grudge match between both competitors after their promotional interviews, Bo Kunz returned to action after an extended layoff against Sean Woodson. This was Woodson's pro debut.

Early on Woodson was trying to bait and lure Kunz into making a mistake by leaning in nonchalant like while Kunz started landing some inside leg kicks to try to set up other openings. Woodson moved and kept his distance as Kunz looked to close.

Round 2 was a bit more of the same with Woodson keeping his range advantage and staying away from the overhand right attempts of Kunz while he landed from a distance. The round was a little more paced didn't really see anyone separate themselves as a clear winner.

Woodson set himself apart in the third with some effective jabs and variations of kicks landing to the head. His efforts awarded him a unanimous decision victory after the match had ended.

The other professional boxing match of the evening featured Jose Jones and Chris Page. The match did not last very long either. Jones started by patiently pumping his jab and working short combinations, looking very composed and patient against Page. When he found his moment that he was seemingly sizing up the entire time, he unloaded a right hand on the button, dropping his opponent and winning by KO 1:40 into the first round.

The lone professional mixed martial arts fight of the evening taking place in the traditional four cornered ring featured local prospect out of Finney's MMA Joaquin Buckley against Bryant West.

West came out fast, firing a head kick that Buckley blocked, then attempted a takedown that in the end had Buckley ending up on top. After just a short period on the ground the fight returned to the feet. West tried to secure another takedown but caught a well timed knee to the face from Buckely, who then ended up back on top and split open West with a couple elbows from side control before moving to mount. West gave up his back and got flattened out by Buckley who secured the stoppage via TKO.

The 19 year-old Buckley improves to (2-0) as a professional.

The entire amateur undercard on XFN2 showcased kickboxing match-ups. Once again, under the new Spire rules for amateurs, competitors are no longer required to wear headgear or shin pads for these bouts.

In the lone women's bout of the evening Savannah Self and Tara Walker squared off in the ring in a definite fight of the night contender. While it was the main even of the undercard, it definitely stole the early portion of the show and got the crowd fired up.

Round one saw both competitors come out throwing effective technical combinations and kicks with power as they engaged and moved all about the canvas. The second round saw Walker come out of the corner stalking Self, bringing pressure and trying to bully her opponent to create a finish. Self held her own as she continued to circle and fire back as the round ended.

The third was a gutty performance by both women, both showing no signs of giving up and constantly exchanging as they moved around the ropes, with Walker getting the better of the exchanges. After the final bell Walker earned herself a win via unanimous decision.

Drew Gigax found some well placed knees in the clinch and effective use of his kicks to help set the tone against Cortez Heard. The accumulation of knees to the body really showed its effect in the third round as Gigax was able to stalk and land without much pushback, earning himself the unanimous decision.

The first two rounds of a bout between Jerome Young and Jason Brown were in Young's favor by amount of strikes landed. However, Brown came back from behind in the third and turned it on to earn a win by TKO in his kickboxing debut.

Christian Santana came out and swarmed his opponent Adam Sharp with aggressive combinations, dropping him the maximum of three times, earning the TKO victory 1:36 in the first round.

Brendan Raymer out of Andre's Academy immediately landed two straight rear head kicks to his opponent Brett Allen, dropping him to the canvas shortly after the bell. Not long afterward he earned himself the first round TKO win.

John Madaus earned a unanimous decision victory over Jobe Washington. Madaus came out throwing power kicks and combinations while Washington circled and had nice moments of success returning exchanges of his own in an exciting kickboxing match early in the evening.

The first bout to lead off the evening saw Yola Love using effective round kicks and movement to take a unanimous decision victory over Tyler Madding.

Shamrock FC returns to Lumiere on April 19th for MMA, and then back May 9th for Xtreme Fight Night 3.

Photo courtesy of Jimmy Range Photography.