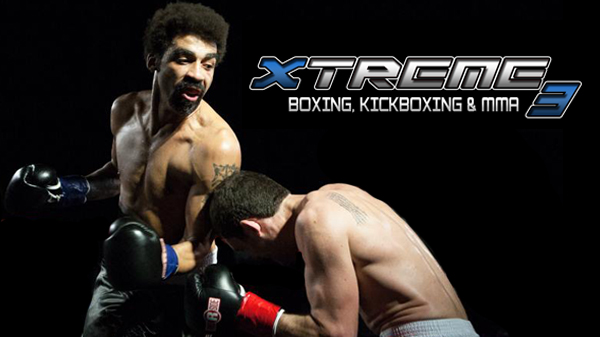 Xtreme Fight Night 3 - Preview
Shamrock FC returns May 9th with Xtreme Fight Night 3. There's a little something for everyone with boxing, kickboxing, and MMA with all fights contested in the boxing ring.

Headlining the event is Terraine "TJ" Casey out of Hahn MMA in Festus taking on Marlin Smith. Casey won a unanimous decision victory over Kirk Huff at XFN 2 and is back taking on Huff's sparring partner at Too Good Boxing, Marlin Smith.

Smith hasn't competed in the ring for over a year when he dropped a unanimous decision to "Wolfman" Javon Wright.

Jerald Rios, the main striking coach for former UFC welterweight Chris "Stump" Heatherly, will be making his professional debut in a kickboxing match against the always tough Bo Smith. Smith competes regularly for Shamrock FC in their MMA division and will be looking to sharpen up his striking against Muay Thai practitioner Rios fighting out of Cahokia MMA.

Two local stalwarts on the amateur MMA circuit are going to settle an old score when Tom "Taz" Baker and Bo "Bad News" Kunz square off. This will be Kunz's second professional fight after taking off almost 18 months after losing his pro debut. Kunz had warm-up with a kickboxing match in February at XFN 2. The two fought back in October of 2011 with Baker winning a unanimous decision.

The "Yeti" is back. Riding high off his successful return in March, Steve Rustemeyer looked razor sharp in his return, defeating Nick Pohlmann in the first round. Rustemeyer was completely transformed and looks poised to make a big splash in a notoriously shallow local heavyweight division Rustemeyer is matched up with James Evans who will be making his professional debut.

Kicking off the pro card is an intriguing bantamweight match-up between Fazlo Mulabitinovic and Adam Dunnavant. Dunnavant from SCMMA is a scrappy, submission fighter with that trademark Granite City toughness. Dunnavant won with a 19 second armbar in February to even out his record at 2-2. Mulabitinvoic won his pro debut against a former teammate of Dunnavant's Nick Dioneda before dropping a unanimous decision to James Blair in January.

On the undercard watch out for Tara Walker and Gabby Labbee which could be an exciting female kickboxing match. Labbee won three consecutive IKF Junio World Titles, and at age 14 won the St. Louis Diamond and Silver Glove boxing championships for the 120lb division. Walker won a slugfest of a fight against Savannah Self at XFN 2.

TJ Casey vs Marlin Smith - Boxing
Jerald Rios vs Bo Smith - Kickboxing
Bo Kunz vs Tom Baker - MMA
Steve Rustemeyer vs James Evan - MMA
Fazlo Mulabitinovic vs Adam Dunnavant - MMA

Marye Dalton vs Harley Jackson - MMA
Rashard Lovelace vs Gaston Marabotto
Tara Walker vs Gabby Labbee
Cody Naucke vs Drew Walker
Dan Scaggs vs Montuelle Prater
Eric Cope vs Joe Caratachea
Olly Cunningham vs Sanjin Zigic

Xtreme Fight Night 3
Saturday, May 9th
Lumiere Casino, St. Louis, MO

Photo courtesy of Jimmy Range Photography.