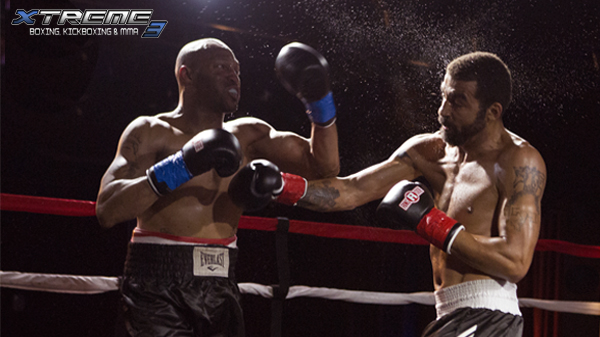 Xtreme Fight Night 3 - Recap
Shamrock FC returned to the Lumiere Casino once again on Saturday evening to showcase its third Xtreme Fight Night show. The first two XFN shows brought a lot of action as well as some knockouts, especially in the women's bouts. XFN 3 lived up to its new and growing reputation, again bringing the same frenetic energy to the Lumiere Theatre.

The main event featured TJ Casey taking on Marlin Smith in a four round boxing match. Smith looked to swarm early on Casey, using his head movement to try to close the gap and attempt to land effective hooks as Casey circled and looked to use his reach advantage. The first round was full of action as the two took turns trading combinations with bad intentions.

The remaining rounds were more of the same with both boxers attempting to impose their will. Smith's being to keep getting inside and to land powerful hooks and Casey to keep circling and jabbing to set up his combinations from the outside, allowing him work in on his own choice. It was very competitive and back and forth. When it came down to the decision it was scored a majority draw.

The co-main event was a kickboxing match that had Bo Smith come out very aggressive against Cahokia MMA's Jerald Rios. Smith was looking to land power shots however he could find them and keep moving forward while Rios responded with multiple kicks to Smith's lead leg to try to slow him down. The second and third rounds slowed down in tempo and speed but consisted of more of the same type of action. In the end Bo Smith took home the unanimous decision victory.

Marc Godeker stepped up on a weeks notice to face Bo Kunz in an MMA bout. The two had fought each other as amateurs with Kunz picking up the win. This time they would meet as pros, and in a ring instead of a cage.

Kunz stuffed an early takedown attempt by Godeker and kept the fight standing. After a few exhanges Godeker then attempted another takedown that Kunz stuffed and then circled around to secured back position. Godeker scrambled a bit but was stuck in turtle position while Kunz then unleashed ground and pound until the TKO stoppage 2:47 in round one.

In another heavyweight MMA bout Steve Rustemeyer out of Hahn MMA earned a quick win over James Evans. Rustemeyer landed a clean shot right off the start that caused Evans to go into a defensive shell. Rustemeyer then kept peppering away at Evans until the referee stopped it 20 seconds in.

Fazlo Mulabitinovic took on SCMMA's Adam Dunnavant in the first professional MMA match of the evening. Dunnavant fired a couple in inside leg kicks before securing an early takedown attempt, but Mulabitinovic immediately scrambled and caught Dunnavant in a heel hook, earning a quick submission 30 seconds into the fight.

The amateur portion of the event was headlined by the only MMA match of the undercard. Marye Dalton made her MMA debut against Harley Jackson. Dalton landed some shots early against Jackson, then stuffed a takedown attempt by Jackson and landed in mount. Jackson gradually shrimped back to guard. After some time of inaction the referee stood the two back up right as the round ended.

Jackson started the second by landing some solid kicks and knees to the body of Dalton. Jackson then attempted a throw, losing hold Dalton's head in the process, and then ended up being mounted once more in the transition from the failed attempt. This time Dalton was able to take advantage of the mount and throw strikes from the position until referee stoppage.

The remaining portion of the undercard were all kickboxing bouts.

In his match against Gaston Marabotto, Hahn MMA's Rashard Lovelace showed fast footwork and chipped away at Marabotto with kicks and effective combinations. Toward the end of the first round Marabotto twisted his ankle, and upon getting back up limped to his corner very carefully.

Lovelace stayed quick and aggressive in the second round, while Marabotto looked like he was having serious trouble putting weight on his newly injured ankle. Between rounds Marabotto's corner wisely called an end to the bout to protect their fighter, earning Rashard Lovelace a TKO victory.

Linsey Williams stepped up on a few days notice to take on tough Tara Walker . Williams came out very aggressive throwing many kicks and knees to Walker right off the start. She kept the pressure high and even dropped Walker with a kick landing straight to the liver. Walker got up and pushed back with her own pressure to close out the round on her terms.
Walker came out on a mission in the second round. Constantly coming forward and throwing combinations, and toward the end of the round seemed to be wearing down Williams by attrition. Walker then took advantage of her opponent's fatigue and cleary dominated the third round. She constantly stalked forward and landed punches while using multiple clinches to land solid knees to the body of Williams.

With Williams securing the knockdown in the first and Walker winning the next two rounds, the fight ended in a draw.

Ace Anderson stepped up on short notice on Friday evening to face Cody Nauke in a kickboxing match after his opponent fell through. Despite the short notice Ace showed up ready to compete. In the end Cody Nauke won by unanimous decision.

After a short back and forth between Joe Caratachea and Eric Cope, Caratachea turned up the intensity and relentlessly went after Cope, scoring a knockdown by landing slick hook-cross combo as Cope circled into it trying to get off the ropes. Cope showed toughness, as he would not be put away. Caratachea ended up winning the contest by unanimous decision.

In the first match of the evening Vasele Koustoule won a unanimous decision over Sanjin Zigic in an entertaining bout.

Shamrock FC returns to the Lumiere Casino on July 25th for "Throwdown."

Photo courtesy of Jimmy Range Photography.