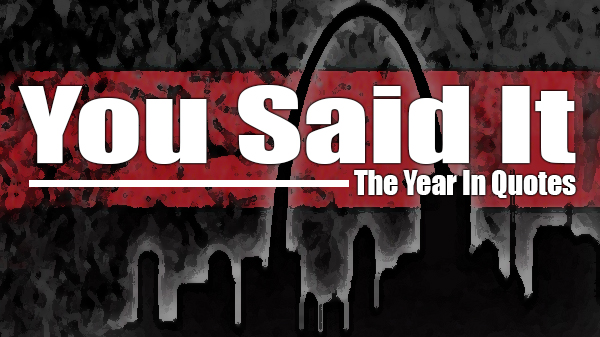 You Said It: The Year in Quotes
If we learned anything over the past 365 days it's that there is plenty going on in St. Louis mixed martial arts.

It was a historic, yet see-saw year where three locals made their UFC debuts and in all there were 14 UFC fights featuring fighters with strong St. Louis ties. The scene flourished in the RFA as for briefly Justin Lawrence, who rose to promise from Pacific, and Jake Collier were the featherweight and middleweight champions simultaneously. Titan FC took notice of the talent brewing here as did the World Series of Fighting.

Internationally, Tyron Woodley and Barb Honchak continued to rep St. Louis in a positive manner. Honchak, who still has close ties over at Berger MMA, successfully defended her Invicta FC flyweight title. Woodley garnered praise not only for his 2-1 year in the UFC, which included a blistering KO of Dong Yhun Kim, but also his resolve to stand beside his hometown of Ferguson during this years riots and looting.

Local action was at a blizzard's pace. Here at Knuckle Junkies, the cast and crew wrote 162 stories, provided coverage from 42 live events, posted 39 videos to our youtube account and threw up five episodes of a podcast.

It's been a historic, yet see-saw year in St. Louis MMA.

Knuckle Junkies was around for a lot of what local fighters, coaches, and figures had to say. Some of the year's best quips ended up in this video, that celebrated our three years on the scene.

So here it is. From our notebooks and recorders to your eyes; You Said It: 2014

January - February - March

"I was nervous there for a second. I saw the ankle pop, but I've said from day one, break it or kill him, that's the only way to beat him."
- Joe Worden, on Rumble Time at the Chase main event winner Alex White

"I want to reinvent myself this year. Now is the time to push myself and show the world what I can do … I knew after the first takedown attempt his was going to break and I broke him. He just broke. I don't think he was hurt at all."
- Robert Washington after his main event SFC victory. Washington would go to be nominated for 2014 pro fighter of the year.

"Being a year-and-a-half off, maybe I jumped the gun a little too soon. This is maybe not the smartest first fight but don't count me out … Unless he hits me with something nasty early, I should be OK. He could get on top of me and maybe I wont be able to shake him? Either way, I want to get it into a dirty fight."
- Lucas Gwaltney ahead of his February SFC main event with Adam Cella

"I've been in tons and tons of tough fights. Wars just like that one and but I think I can honestly say that was my toughest fight and possibly the greatest fight St. Louis has ever seen."
- Gwaltney after winning via TKO late in the third round over Cella.

"I knew after seeing his fights that if he's pushed he'll gas out but I was pretty damn tired myself. Every punch I threw was 100-percent and I was trying to take his head off but I knew he was more tired."
- Andrew Sanchez after his RFA win in March over Myles Marshall that earned him a title shot.

"My legs went numb. It was a scary situation. The first thing was I wanted to get up and keep fighting but when you are taking in deep breaths and it feels like someone is stabbing you in the back its kind of a hard choice."
- Chris Heatherly after suffering an injury, due to an illegal elbow to his back by Chidi Njokuani that stopped the fight in his RFA debut

"They are absolutely two of my favorite in this business because they're class guys and they work real hard. It's tough. There's that pit in my stomach. I wanted to give them both a hug when it was done."
- Jim Jenkins after the MMASF Clay Mitchell vs. Matt Helm main event.

April - May - June

"I am overwhelmed by the amount of support I've gotten since the announcement. It feels good to know that I have so many people behind me. I would have never made it this far without my family, friends, coaches, and fans. They are the reason I've made it this far."
- Alex White upon being signed with the UFC.

"I'm just a normal guy with a normal life trying to fight my ass off."
- Joel Blair, in a preview to his fight with Scott Futrell. Blair put together three of the most memorable fights of 2014.

"I try and put on a show. I never stall and I am trying to take this away from the judges decision with every punch, kick, and submission I attempt."
- Dan O'Connor ahead of his Titan Fighting Championship debut.

"He used to be terrible; had no technique at all. Two years ago he was trying to double leg in his first boxing match."
- Mike Rogers, SCMMA head coach on talented prospect Jake Roberts

"Kendrick is like lighting a chain of black cats tied together,"
- Jared Daniels-Block, MCS head coach, on Kendrick Latchman's pro debut.

"I was never the star athlete growing up. I was always second string and had to work for every ounce of skill I have. I think I represent the underdog and all the people who know how it feels to not be believed in."
- Andrew Sanchez in a preview of his RFA middleweight title fight with Kevin Casey.

July - August - September

"I don't really like to watch MMA, I only really like to think about fighting and MMA when I'm training or fighting. It keeps my mind clear so I can think about other things in my life."
- Alex White leading up to his second of three UFC fights in 2014.

"There's a bunch of female fighters around St. Louis and the surrounding areas in every aspect of fighting. There's boxers, Muay Thai fighters, wrestlers, MMA and jiu-jitsu fighters. So we're like why not take advantage of that. We might as well help each other get better. We all train at different gyms ...we set up all the rules and regulations of what we want to do and we all just made it happen."
- Ashley Cummins on the monthly St. Louis all-female sparring sessions.

"Buddy, he was a tough son of a gun. He came out and he brought it ... I knew in that third round I had to suck it up and take it to him."
- Brandon Lowe after winning the Fight Hard MMA lightweight unified belt over Buddy McGinnis.

"I had to do what I could to squeak it out. He came out and was little bit nastier of a fighter than I expected."
- Wes Powers after winning the Fight Hard MMA middleweight unified belt.

"I think being active is always great. Whether it's boxing or MMA, I'm staying in shape and I'm staying competitive...the goal is to keep building my MMA record and get a fight on a big show."
- Kevin Engle, who returned to MMA after a near two-year layoff from the sport.

"He ended up getting a takedown on me and I went straight to my jiu-jitsu. I got back to my guard and threw a triangle up ….I'm 34 years old. I don't have a ton of time left in the sport, I have a family, now is the time to do it."
- Engle, who is also a decorated pro boxer, after earning his first-ever submission victory, coming in the first round of SFC Nemesis

"Matt Ricehouse is big on you need to enjoy yourself and have fun when you're in that cage and that whole fight camp wasn't an enjoyment. I had too much on my plate. That's one thing I really learned about this; if you want to be a fighter you need to be a full-time fighter. I've put teaching aside that way I can concentrate on fighting and that way I don't have to get up at 4 in the morning to get ready for work and stuff like that."
- Josh Sampo, after suffering his first UFC loss to Zach Makovsky

" I want to get that last fight before I hang up my gloves. I appreciate everyone's support over the years. I've had a good fan base throughout my career. It is time to call it quits."
- Booker DeRousse

"I was noticing little things that I let slide. I was getting caught up in who said what about other fighters, checking every 10 minutes. I needed to come back to reality."
- Chris Heatherly on scaling back on social media ahead of his return to the RFA

"My hippy friends? I couldn't drag them to the fights if the Rolling Stones were playing. If I mention that I'm shooting some fights, they look at me like, the fuck happened to you? They just don't understand."
- Bob Barton, longtime combat sports photographer

"There's a demand for it. I bet I get three calls or emails every other day asking about pro boxing in the St. Louis market. I have always been a fan of the mixed shows. There is something for everybody."
SFC president Jesse Finney on the launch of the XFN series of shows featuring professional boxing, kick boxing, and MMA.

"I was having a good time, getting ready to sit down for lunch with a gyro and my manager called. He said, 'you better put down that gyro."
- Heatherly upon being signed to the UFC

"I was going through phases where I was trying new styles, going through hurdles. I've found myself. I realized that I needed to stick to what I was good at. I'm not a pro boxer I'm a mixed martial artist."
- Robert Washington ahead of his Titan FC debut.

"I was Joe's first pro fighter and we learned together. We made some good decisions, but we also made some mistakes along the way. I think we have a better idea of how to handle things now and we are going to continue to make the right decisions to help me get to the next level."
- Eric Irvin in a preview to his fight with Sal Woods at MMASF.

"He was just as tough and just as dangerous as I thought he was going to be … he had me in that guillotine and I was almost in a panic there for a second … I knew once I had that body lock on I knew it was a matter of just squeezing and that he would not like the rib constriction and I can sink my arms in around his neck."
- Irvin after getting a submission win over Woods. Irvin would go to me nominated for Regional Pro Fighter of the Year.

"There is a deal in place with Bellator. We are teaming up for 2015. We'll be bringing Bellator to St. Louis and KC markets. Up to 3-4 times a year."
- Shamrock FC's Jesse Finney.

"Everybody on the card is well established and has fights in Strikeforce and UFC. You just have to go out there and be smart. Who's going to have the best gas tank and who's going to be mentally tough."
- Luigi Fioravanti before competing in the 8-man Battlegrounds MMA one-night tournament.

October - November - December

"(Checco's) striking is rudimentary. He's a big, strong guy with a BJJ base looking for the knee or ankle lock. I think he's kinda slow and I'll have more in the tank. I can' wait. I'm like a kid on Christmas."
- Jake Collier prior to facing and beating Gabriel Checco for the RFA middleweight title.

"I knew the way to win was to go forward. She had good defense but I was not stopping. I think it came down to conditioning … It was a battle of wills, plain and simple. That girl has spirit."
- Michelle Pearce after defeating Roni Lawrence for the Fight Hard women's bantamweight title

"I've been all over and I cringe every time I hear someone say; 'You need to go here to be in the big show.' I think, wow, really? We have a lot of guys here who are in or have been to the big show. We have some bad cats in this area and in the Midwest. You don't have to go very far. We're seeing handful of guys from here make it to the UFC. It's not just one rock star. They're getting there and they're staying there."
- Tony Biondo, longtime ring announcer and St. Louis MMA fixture.

"That was the catalyst that made me get the hell out and stop doing what I was doing. I needed to do something different with my life."
- Yohance Flager talking about getting stabbed during a confrontation before getting serious about his mixed martial arts career. Flager headlined 3 events for Rumble Time in 2014.

"September/October, 2006. So just do the math to get to 50. It was back-to-back. In 2008-09 it got really good with all legit talent, no scrubs. You look at the posters and it looks like a UFC card. It's so saturated now. It's not meshing like it should. Gyms don't have control of their fighters, It's like the wild, wild West. You either whine and lay down or innovate and move on."
- Cage Championships' Patrick Smith on celebrating his 50th show.

"That's the difference from fighting in the RFA and fighting in the UFC. You can make a small mistake in the RFA and comeback and win the fight. You make a small mistake like that in the UFC and you're going to get finished or get knocked out or end up losing the fight."
- Chris Heatherly after his UFC debut loss to Ben Saunders and prior to his November bout in the UFC. Heatherly went 1-2-1 this year.

"My friends set it up. My dad lives in Colorado and for the past 10 years we haven't been speaking. The first person I saw when I walked out of the cage was him. It was incredible to see him. Walking up, there was some anger and some resentment but I still love him."
- Joel Blair on reuniting with is father immediately after stepping out of the cage in a loss to Adam Meredith at MMASF

"Yeah. I remember asking my wife one day, 'Do you think I can ever come back from this? Do you think I can even do this?' She said, if you can, you can if you can't, you can't either way I'm going to be supportive and that was what I needed to hear. And to my sons, when I got older, I didn't want them to be, 'Why'd you quit?' and I'm like, "Well, I just didn't believe in myself.' that would be a hard pill to swallow But when I had guys like Pat and my best friend Nic, and Sanchez, they're just so supportive. There's never negative energy and that just helps so much."
- Jake Collier, who overcame two surgeries to win the RFA middleweight title and earn a UFC contract. Collier finished the year 1-1 after losing to

"I got caught up in a pissing contest."
- Alex White on losing a UFC bout to Lucas Martins. White returned to the UFC cage in December where he lost by decision to Clay Collard. White went 2-2 on the year.