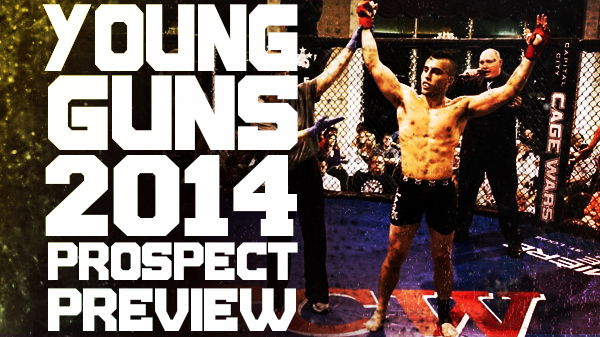 Young Guns: 2014 Prospect Preview
Looking back at 2013 we've selected five amateur fighters that look poised to have a big year in 2014. While some of them might have flown under the radar, it won't be long before these are household names.

Wendy Julian (6-0) Straweight

Julian fights out of the War Room in Wood River, IL under the tutelage of Brian Jones and Jon Menke, and has quickly improved to become one of the area's best female athletes. Her impressive victory over Michelle Pearce at Shamrock FC in December earned her a spot on this list, but it was her recent victory in Vegas that has us really excited.

Two weeks ago Julian traveled to Las Vegas to compete for King of the Cage. Julian battered her opponent around the cage for four full rounds before opponent Danielle Taylor (4-1) decided she had had enough and didn't answer the bell for round five Julian took home a belt and will be featured on an upcoming broadcast of King of the Cage on MavTV.

Julian will compete in the 2014 WKA North American Championships in March, and according to her coach Jon Menke, will take a few more amateur fights to tighten up her game before turning pro sometime in the fall or early next year.


Erion Zekthi (5-0) Bantamweight

Many felt Zekthi was snubbed by his absence on our amateur of the year awards. With four fights in 2013, Zekthi has looked dominant. The undefeated bantameight's biggest win came against Cort Wahle at Shady Jacks in August. Wahle was the first person to take Zekthi to a decision in a very exciting fight. Zekthi mixes explosive striking with surprisingly sneaky submissions. Many will remember his one minute stoppage of Cody Winistfer at MMA Sport Federations in June. Zekthi has been mixing up his training as of late and has been spotted at a couple of different local gyms including taking a few rounds with UFC flyweight Josh Sampo at St. Charles MMA.

Zekthi will return to action on February 21st in a K1 match for MMA Sports Federation, and will hopefully stay active in 2014, if he's able to find opponents who are willing to fight him.


Cristian Santana (6-1) Bantamweight

In just seven months Santana has competed seven times in the cage. With wins over Tyler Hubbs and Joy Roye, he has faced some tough opponents. His only loss was a close decision at Fight Hard against Montuelle Prater. Primarily a boxer, Santana stunned the crowd in December with a rarely seen gogoplata submission over Roye in what can surely be considered the submission of the year.

If Santana continues to take smart fights, he looks like he has the potential to quickly climb he Spire rankings in a division that has become quite thin with the departures of Damian Newman and Fierce Taylor to the pro ranks.


Denver Sells (6-2) Middleweight

Everyone knew Sells could brawl, as evidence of his fights with Kelly Burch and Daniel Schaab, but not many outside of the Smith Pit knew he possessed a wicked submission game. Sells wracked up two straight submission victories over Jesse Gerringer and Shaun Scott. At 6-2, Sells' only losses are to Schaab and the now pro Adam Meredith. Sells is now riding a four-fight winning streak thanks to a 20 second dismantling of Zach Burcham at Cage Champs in January.

As one of Jake Collier's sparring partners, Sells has no choice but to improve. We expect big things for Sells in 2014 in a notoriously thin amateur middleweight division.


Joaquin Buckley (5-0) Welterweight

The sky is the limit for 19 year-old Buckley from Finney's MMA. A terrific athlete and a physical specimen, Buckley mauls his opponents into submission. What's really impressive about Buckley is his well-rounded skills. In his most recent outing, Buckley's hard punches convinced opponent Wayne Collier to take the fight to the ground where Buckley submitted him with a triangle. Despite his young age, Buckley has shown the poise of a seasoned pro, no doubt the result of trading rounds with some of the area's top welterweights like Adam Cella and Luigi Fioravanti.

We hope to see a lot more of Buckley in 2014.