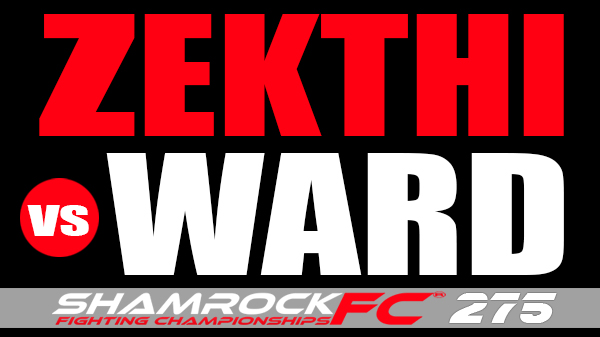 Zekthi vs Ward: SFC 275
A main card bout with main event talent takes place at the heart of Friday' Shamrock FC: 275 at the River City Casino.

Three fights into the all-pro main card, two polished bantamweights, Trevor Ward and Erion Zekthi, both with reams of potential, will square off just before the co-main event.

Zekthi is making his pro debut after a sensational amateur run. Ward is 5-2, mostly at flyweight, and the six-footer didn't bat an eye at taking the high-risk (skilled grappler), low-reward (zero pro experience) fight.

"Honestly, I just wanted to fight," Ward said. "It had been six months and was wanting to go up (in weight). I contacted Shamrock and when they offered this fight, I took it. I didn't really care who the opponent was."

Alongside his height and striking advantages, Ward feels his familiarity with five-minute rounds will pay dividends.

"For me, it comes down to experience," he said. "I've been through it. He has not fought anyone as seasoned as I am. I'm confident. This is the best camp I have had."

Ward, a native of Springfield, IL, followed a job to Albuquerque, New Mexico where he immediately walked into the house of the most dominant MMA team on the planet, Jackson-Wink, unannounced and asked to be let in.

"I slept in my car the night before at the Wal-Mart next to it," Ward said. "It was surreal. It was intimidating at first. But after they looked at my record, Googled me, they said training starts in 15 minutes and we went straight to sparring. There wasn't much time to think. They welcomed me right in."

Ward stayed at the gym, which provided on-site housing for select fighters. The number of tips and life lessons he's scrapped together in his short stint has already changed his approach to the fight game.

"The move opened my eyes," he said. "I have learned a lot and it's boosted my confidence. They know that I have what it takes and it's cool to have these people behind you."

Ward has adapted nicely to life in New Mexico. He ditched the hard-labor job that transferred him there. He has a new girlfriend and moved out of the gym into an apartment. His job teaching at Jackson-Wink's amateur gym has led to new connections and contacts.

Ward is just 26 but has been around the block.

He scored a first-round submission in his pro debut and in his second fight, he met the promising Charlie Alaniz. Ward's victory over Alaniz, a second-round stoppage, remains on the only loss on Alaniz's record (8-1).

On little over a week's notice Ward and his 4-0 record, flew to Japan to face a champion with five times as many fights in that champion's home country. Ward would go on to lose via TKO after a corner stoppage May 11 in Tokyo to Pancrase champion Shintaro Ishiwatari. In 2015, MMAjunkie profiled Ward in its Fight Path series.

Ward's last fight was against Kendrick Latchman in December 2015. It was a fight Latchman finished in the final seconds of the third round. Ward didn't take a smart approach to cutting down to flyweight for that fight and his body took its toll.

"At the seven-minute-mark I started cramping," Ward said. "I had been weight training a lot leading up to that fight. I cut 20 pounds in a week. It sucks when your body breaks. Your mind will break 100 times before your body, but when your body does, it gets to you. It pisses you off. It was the worse feeling ever in a fight. I put myself down. It was an eye-opener."

Zekthi has gone unblemished in his fight career. He went 10-0 as an amateur and was a belt holder in two of the regions premier promotions, Shamrock FC and Fight Hard MMA.

The 23-year-old has strong ground game paired with a high fight IQ. His grind-into-the-mat style has led to five decision victories in his last six fights.

In prepping for his step away from amateur (three-minute rounds) to pros (five-minute rounds), Zekthi has put an emphasis on recovery and listening to his body. More than anything, he's looking forward to the extra time in the cage to set up his building blocks for victory.

"It's not just about cardio, but also the pace in which you bring." he said "I just have a lot more time to work. Things like body shots take more of a precedence, I can actually do a lot of leg kicks now because I have time for these not necessarily fight-ending strikes to accumulate. So then in the second and third rounds, I can see the fruits of my labor. I've just been a lot more methodical in my striking and how I carry myself into a fight because three minutes and five minutes are a whole different ballgame."

As the weeks and days draw closer to fight night, Zekthi walks around with a chip on his shoulder broad enough to be seen a mile away.

"Here's the deal with Trevor Ward, I don't dislike the guy, I'm sure he's a nice guy, he's all these things," Zekthi said. "I dislike the fact that there is another man who is trying to take what's mine. For him to make a name for himself he's gotta beat me. MMA is a sport with limited resources and everyone is trying to grab a plate. I'm not going to let him take my meal. I don't dislike Trevor, but if anyone tries to step in my way, f*ck you. Maybe after the fight we'll see eye-to-eye, but until then I look at it as someone who is trying to beat my ass."

The fight with Zekthi will be Ward's trip back to bantamweight, a division he's spent time at before as an amateur.

"He fell out from the 125-pound division," Zekthi said. "He feels like he can't do it anymore, maybe the cut is too much for him. So now he's trying to do like a resurgence in the 135-pound division and that's where our paths are crossing. I think there were some other smarter fights in the St. Louis area for him to take. I think I'm a bad fight for him."

A lot of the talk leading up to this fight has centered on Ward's move to Jackson-Wink. It's a decision, when prompted, that Zekthi shakes his head at.

"I think moving out to Jackson's is one of the dumbest things he could have done at this point in his career," Zekthi said. "I understand he was not training at a gym before, but there are a lot of gyms locally that he could have gone to that would have given him the one-on-one time that I am receiving constantly. At Jackson-Winkeljohn's he's just another guy in a stable full of fighters. You're their sparring partner. You're the guy they roll with. You're just getting the rounds in with really good fighters, which has some merit, but doesn't have as much merit as having a striking coach, a MMA coach, and a BJJ coach specifically designing practices for your fight. When I come into practice, everyone is helping me, it's Erion's fight on September 9th, lets help Erion."

Zekthi has embraced his gift for gab and his ability. It began in March of this year before his featherweight title bout with Cortavious Rominous and he's been lobbing verbal hand grenades toward anyone in-or-around his division ever since.

"I'm saying the things that fighters should be thinking," Zekthi said. "If you're a fighter and you're not saying to yourself, 'I'm going to kill this guy, I'm going to dominate, I'm going to beat him in every position', then you're in the wrong f*cking sport. The only difference between me and the other guys is that I'll say it because I honestly believe in my abilities. Maybe there will come a time when someone beats me or I get caught, because anything can happen in MMA, but it's not going to change the confidence in my abilities. I feel like I'm going to beat his ass. You want me to act humble when this guy is showing disrespect to me by accepting this fight because he thinks he can beat me? No, this is what I feel."

For those who think Zekthi's brash words and sound bites make for good fodder, but lack in authenticity and are only a vehicle to push his name he says, not so fast.

"To those people that say that I'm just selling a fight, or Erion used to be so humble. Back when people didn't know me I didn't have the interviews for my true self to come out." Zekthi said. "No one talked to me when I was 5-0 or 6-0, they started talking to me when I fought Cortavious. When they put a camera in front of me for Cortavious, I spoke my mind like I would when I was 5-0. This isn't anything new, this is how I've always been, the only difference is now I have an outlet to show it."